With the development of capital construction, steel bars are widely used in different industries. So the production efficiency and performance of steel bar processing equipment are very important. The stirrup is an indispensable steel member in the beam and column of the building. It forms the skeleton of the beam and column together with the main reinforcement and then forms a reinforced concrete structure. CNC Rebar Bending Machine is an important steel bar processing machine.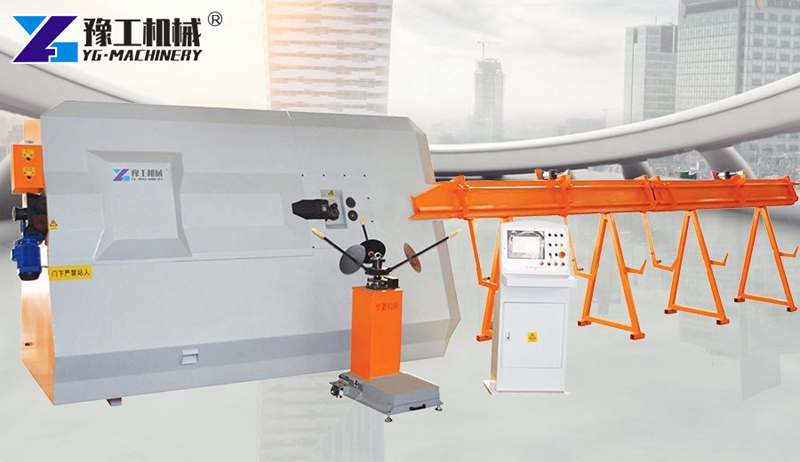 CNC Rebar Bending Machine for sale in Indonesia
Komang is a bridge project contractor from Indonesia. To meet the requirements for his project, he needs to buy a CNC steel bar bending machine.
The fully automatic CNC hoop bending machine is widely used in steel bar bending processing in various construction projects such as housing construction projects, bridge projects, highways, railways, airports, water conservancy projects, port bridges, etc. It can meet the needs of modern and intelligent steel bar processing.
The CNC steel bar bending machine generally processes steel bars with a diameter of 4 to 12mm; there are also models that can process steel bars with a diameter of 5-16mm.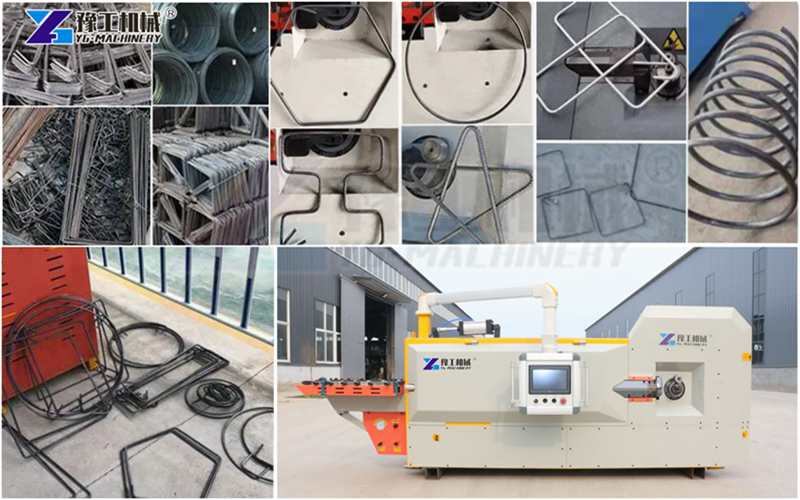 YG Automatic CNC Steel Bar Bending Machine
CNC steel bar bending machine, also known as an automatic steel bar forming machine, is a specification that adopts programming control technology, intelligent and automatic control of steel hoop forming, and realizes automatic straightening, bending, cutting, and integration of steel bars. Check below the parameters of the rebar processing equipment.
Parameters
| | | | |
| --- | --- | --- | --- |
| Processing diameter (Single ) | 4-12mm | Processing diameter (Double) | 4-10mm |
| Bending angle | 180 degree | Center pin diameter | 16.18.20 |
| Maximum towing speed | 60m/min | Shape of stirrup | ≥100 types |
| Maximum bending speed | 800 degree / second | ≤2 pieces at the same time | -5 ℃-40 ℃ |
| Size | 3280*1000*1700mm | Length accuracy | ±1mm |
| Weight | 1350 kg | Angle accuracy | ±1degree |
| Color | Yellow (customized ) | Average power consumption | 5kw/h |
| Processing pieces | ≤2 pieces at same time | Total power | 20kw |
Advantages of CNC steel bar bending machine
You do not need to replace the split fixed knife, which is convenient for maintenance and reduces costs; the fixed knife can be used on both sides, which improves the service life; the movable knife design is used on four sides, the service life is increased by 4 times, and the cost is greatly reduced.
The high-precision servo drive with full closed-loop control makes the length accuracy of steel bar processing reach ±1mm, and the angle accuracy reaches ±1°;
Easy to operate, saving manpower, material, and space.
The double-wire hoop wire feeding system greatly improves production efficiency and can ensure the synchronization of wire feeding for double-bar processing. It is especially suitable for the processing of coiled steel bars below the new fifth grade.
In addition to bending a variety of different shapes of plane steel bars, CNC Steel Bar Bending Machine can also be used for straightening steel bars. It is a steel bar processing equipment that integrates straightening, bending, and shearing.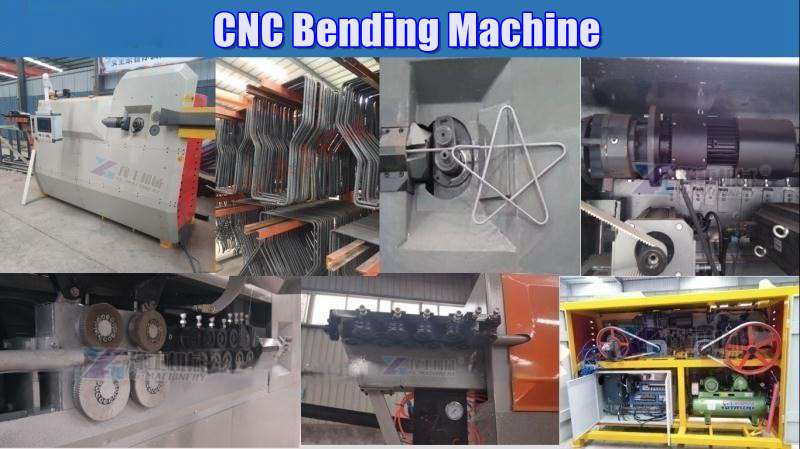 Why you should use a CNC Steel Bar Bending Machine?
CNC steel bar bending machine is widely used in the construction industry, large steel bar processing plants and high-speed railways, highways, water conservancy construction, etc. The machine has the advantages of multi-purpose, high production efficiency, and can save raw materials. So it is very popular. Below are the reasons why you should use a steel bar hoop bending machine rather than a manual operation:
Compared with manual bending, a CNC steel bar bending machine is faster, more practical, more efficient, and can save a lot of time.
Compared with manual operation, the steel hoop bending machine saves materials. After manual straightening, both ends of each section of steel bar have to be cut off, and the cut part becomes waste, resulting in waste of materials.
The CNC steel hoop bending machine occupies less floor area than manual labor, saves straightening work area and cutting work area, and can work in narrow areas.
The hoop bending machine has higher precision than manual bending, and the size and angle of the hoop are more consistent. It can also process various specifications such as square, giant, rhombus, polygon, etc.
What is the CNC Sheet Metal Bending Machine Price?
YG Machinery sells CNC steel hoop bending machines all around the world. We promise that for those who buy machines, we can provide technical support with on-site installation and free training services. If you need it, please contact us immediately.