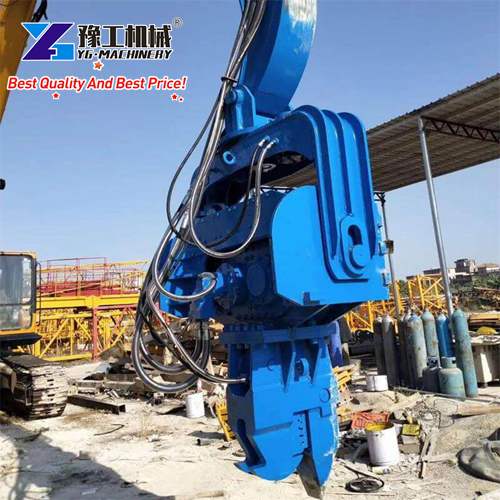 Due to the development of local infrastructure construction in recent years, there is a great demand for construction machinery and accessories in the Philippines. So as the vibratory pile driver for excavator. Here is a working case of the YG pile driver attachment for excavators.
Working Case of Vibratory pile driver for excavator
Mark David from the Philippines owns a construction company. He does pile foundation construction projects locally. To improve work efficiency, he decided to buy some excavator sheet pile drivers. After many conversations with our business manager, he made an order for 8 sets of RVH-06 pile drivers from YG Machinery.
Excavator Mounted Vibro Hammer
YG hydraulic pile driver for excavators is suitable for various types of excavators above 10-40 tons (Hitachi, Komatsu, Shengang, Sumitomo, Carter, Daewoo, Hyundai, Sumitomo, Kato, etc.). It is used for driving 6-18m steel sheet piles, Larsen piles, U-shaped steel, I-beam, steel pipe piles, 4-9m photovoltaic cement piles, cement square piles, wood piles, etc.
The excavator piling machine is used for piling for solar photovoltaic power generation, river embankment, railway foundation pit support, Elevated foundation pit support or bridge pier foundation pit support, and other projects.
Contact us to request a free quote. WhatsApp/WeChat/Tel 008613598866720.
Technical Parameters
| | | | | | | | |
| --- | --- | --- | --- | --- | --- | --- | --- |
| Model | RVH-04 | RVH-06 | RVH-08 | RVH-10 | RVH-12 | RVH-14 | RVH-18 |
| Vibration Frequency | 2500rpm | 2500rpm | 2800rpm | 3200rpm | 3200rpm | 3200rpm | 3200rpm |
| Operation Pressure | 30 Mpa | 32 Mpa | 32 Mpa | 32 Mpa | 32 Mpa | 32 Mpa | 32 Mpa |
| Centrifugal Force | 117kn | 172kn | 265kn | 335kn | 350kn | 372kn | 455kn |
| Max.Pile Length | 6m | 8m | 10m | 12m | 12m | 12m | 15m |
| Arm weight | 160kg | 260kg | 500kg | 500kg | 670kg | 670kg | 750kg |
| Hammer weight | 850 kg | 1100 | 1700 | 1900 | 2100 | 2300 | 2600 |
| Excavator | 7-12T | 12-17 | 20-30 | 20-30 | 30-35 | 33-40 | 40-45 |
YG I-beam Vibratory Pile Driver uses vibratory pile sinking to drive and pull piles, especially suitable for short and medium pile projects such as municipal, bridges, cofferdams, building foundations, etc., as well as river embankments, railway foundation pit support, and elevated foundation pit support, or bridge pier foundation pit support and other projects.
Vibratory pile driver for excavator – Working principle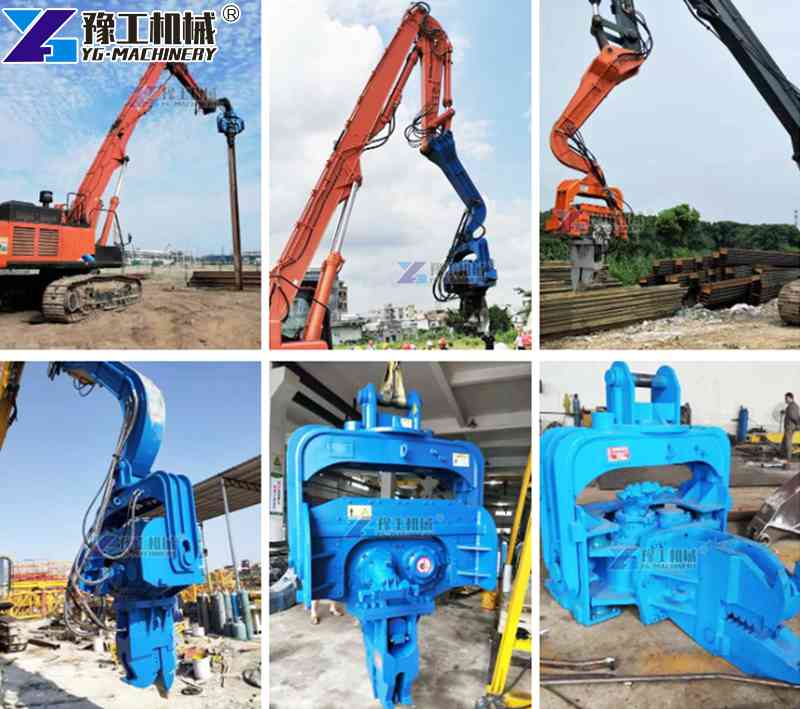 The I-beam pile driver uses its high-frequency vibration to vibrate the pile body at a high speed. It transmits the vertical vibration generated by the machine to the pile body, causing the soil structure around the pile to change due to vibration and reduce its strength. The soil around the pile body is liquefied to reduce the frictional resistance between the pile side and the soil body. Then the pile is sunk into the soil with the downward pressure of the excavator, the I-beam Vibratory pile driver for the excavator, and the self-weight of the pile body.
When pulling out piles, under the condition of one side vibrating, use the lifting force of the excavator to pull up the piles. The exciting force required by the Vibro pile hammer should be comprehensively determined according to the soil layer, soil quality, water content of the site, and the type and structure of the pile.
Features of YG I-beam Vibratory Pile Driver
Super features of YG I-beam Excavator Mounted Pile Hammer:
Simple and flexible operation
The operation of the pile driver is completed by one operator of the excavator, which is easy to learn.
With good mobility, it can be towed together with the excavator when transferring to the construction site without disassembly.
Unrestricted by terrain and obstacles, it can enter narrow areas or conveniently and quickly cross-area construction.
The same set of equipment is used for piling and pile pulling. And the piling and pile pulling can be switched quickly and easy to operate.
Stable performance and precise design
Different fixture jaws can be replaced to meet the construction needs of various steel sheet piles, I-beams, Larsen piles, U-shaped steels, cement piles, and wooden piles.
The unique oil circuit and circuit control system design make various operations. Such as pile clamping, pile driving, rotation, and pile pulling flexible and free. And at the same time ensure that the performance of the excavator will not be affected.
The double-guaranteed clamping nozzle oil cylinder firmly locks the system pressure, ensuring the stability and reliability of clamping sheet piles.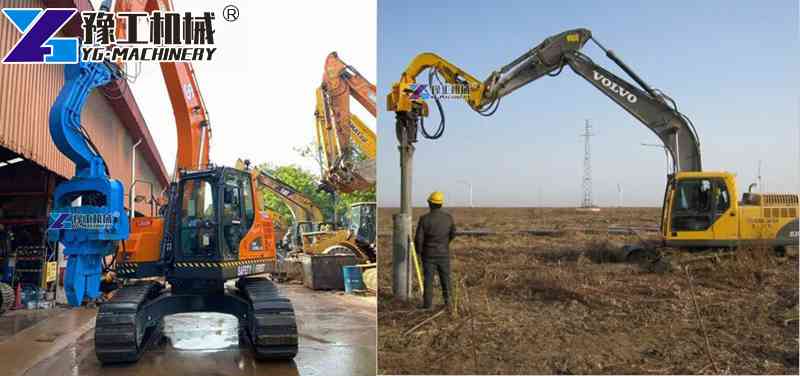 Solid structure and fine workmanship
The fuselage and auxiliary arm are all made of manganese steel, which is strong and durable.
Imported high-performance shock-absorbing rubber block, stable quality, and long life.
The special tooth block design and material surface heat treatment effectively increase the bite force.
High efficiency and cost saving
The staff, at most two, effectively reduces the construction personnel.
The absence of a generator saves fuel, transportation, and maintenance costs.
After installing the machine, it is convenient and quick to replace the breaker, hydraulic shear, compaction machine, etc. Multiple purposes and save costs.
Construction is quiet, environmentally friendly and hygienic
The construction period is short, the noise is low, and the residents are not disturbed.
Working Video
What is the Pile driver for excavator Price?
Please contact us to get the Vibro pile hammer for your excavator. WhatsApp/WeChat/Tel 008613598866720.