YG-30 Small Concrete pump and YG-90 Hydraulic Wet Concrete Spray Machine exported to Russia!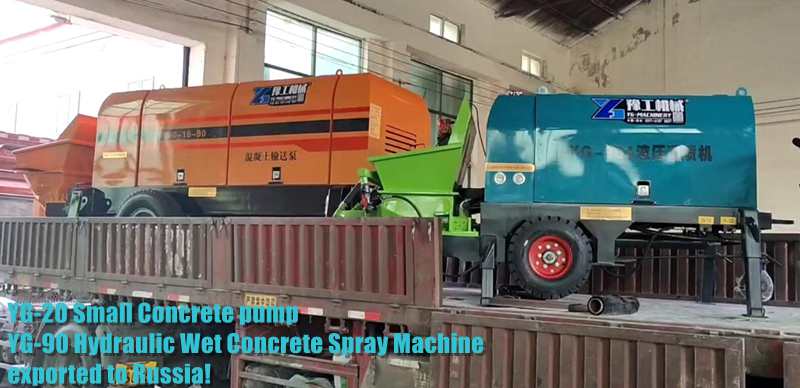 The customer has been engaged in the business of contracting construction projects all year round. He need to buy a new shotcrete machine for his new construction project. And he find YG Machinery. After comparing with many offers, finally he decide to order from YG Machinery.
Factory Price. High quality. 7/24 online services. Good after-sales services. Contact us to get a good price now.
YG-30 Trailer-mounted Concrete Pump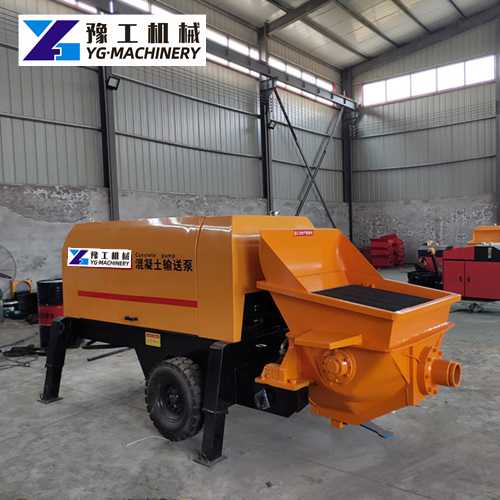 Delivery capacity: 30 m3/h
Outlet pressure: 110 Mpa.
Maximum aggregate diameter <30
Motor power: 55 kW
Dimensions: 4100x1800x1700mm
Maximum theoretical conveying distance: Horizontal 100-150m ; Vertical 30-40m
Machine weight: 3000 Kg
Feeding height: 1200mm
Delivery pipe diameter: 125Maximum aggregate diameter
YG-90 Shotcrete Machine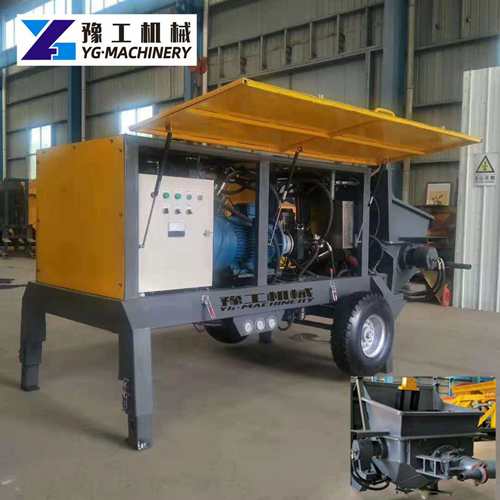 Production capacity: 3-7 m³/h
System maximum pressure: 6.1MPa
Working wind pressure: 0.4-0.6Mpa
Maximum aggregate:15mm
Main motor power: 22kW
Voltage class: 380V
Hopper volume: 0.3m³
Concrete slump: 12-18cm
Machine dust: < 6mg/m³
Feeding height: 1.15m
Fuel tank volume: 145L
Rebound rate: ≤ 10%
How to choose a suitable concrete pump machine?
Choosing a suitable concrete pump machine involves considering several factors. Here are some key factors to consider:
Type of project: The type of project you are working on will determine the size and capacity of the concrete pump machine you need. For example, a small residential project may require a smaller machine compared to a large commercial project.
Pumping distance: Consider the distance that the concrete needs to be pumped, as this will determine the size and type of pump you need. If you need to pump concrete over long distances, you may need a larger machine with a higher output capacity.
Concrete mix: The consistency and composition of the concrete mix will also play a role in choosing a suitable pump. Different types of pumps are designed to handle different types of concrete mixes.
Pumping rate: Consider the pumping rate of the machine, which is typically measured in cubic meters per hour. This will determine how quickly you can complete your project.
Mobility: Depending on the location of your project, you may need a machine that is easily transportable. Consider the size and weight of the pump, as well as its mobility features, such as wheels or a trailer.
Cost: Lastly, consider the cost of the pump and its maintenance requirements. Choose a pump that fits your budget and has a good reputation for reliability and durability.
By considering these factors, you can choose a suitable concrete pump machine for your project. It's also a good idea to consult with a professional or a supplier of concrete pumps to get more guidance on the specific machine that best suits your needs.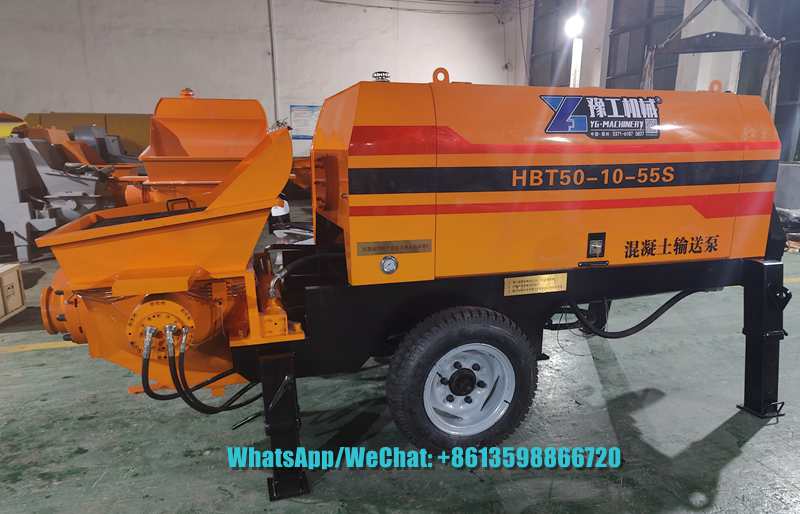 Why choose Henan YG Machinery?
In the past 18 years in the construction machinery industry, Yugong has made every effort to build the core competitiveness of services, whether it is to go to the customer's construction site in a mountainous area for 28 hours, or a business trip during a holiday, or a night-time trip for after-sales service, emergency rescue, or even Zhengzhou's epidemic situation, or go abroad for technical support….. Backed by the strong strength of YG Machinery, we have the courage to take responsibility, and win the trust of customers one after another!
Are you also looking for construction machinery? Please leave your requirements in detail below, our sales manager will contact you as soon as possible. WhatsApp 008613598866720.