What is a Hydraulic Pile driver? The pile driver is composed of a pile hammer, pile frame, and auxiliary equipment. Hydraulic Pile driver has many different types according to the hammer, such as Drop hammer, Steam hammer, Diesel Hammer Pile Driver, Hydraulic Hammer Pile Driver, and Spiral Hammer. In this article, I will introduce some common pile drivers. If you have any questions about the pile driver machine for sale, please leave your messages here. We are here to help!
13m Wheeled Rotary Drilling Rig for Sale (Pile driver)
YG-180 wheeled rotary drilling rig has the advantages of flexible maneuverability, small tonnage, simple operation, strong stability, super-fast piling speed, fast movement, convenient special event, small investment, and fast income. The frame and the whole vehicle are all 50 manganese steel. So it will not be deformed for life, so as to realize the characteristics of drilling large pile holes for small models.
| | |
| --- | --- |
| Model | YG-180° Rotary Drilling Rig |
| Dimensions | 7900*2260*3100mm |
| Vehicle mass (kg) | 8000 |
| Wheelbase | 3150mm |
| Wheelbase (mm) | Front 1400 After 1060 |
| Drilling depth (m) | 13 |
| Drilling diameter | 600-1600mm |
| Rotation angle | 180 degree |
| Walking speed | 50km/h |
| Gear pump model | CBJT2080 |
| Hydraulic system working pressure | 20-25mpa |
| Hydraulic system displacement | 80ml/r |
| Engine model | 4108 |
| Engine power | 88kw |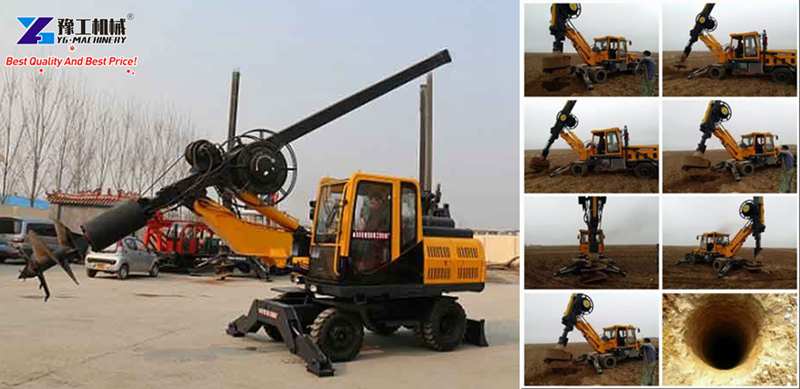 Guard rail post pile driver machine
The lost price guard rail pile driver equipment can work itself. It's a road, a highway. Security engineering guardrail pipe pile construction, maintenance professional equipment.
Barrier installation pile driving machine parameters
| | |
| --- | --- |
| Model | YG230-260 |
| Diesel engine power | 20kw |
| Working pressure | 16Mpa |
| Workflow | 36-56L/min |
| Working height | 700-2600mm |
| Dimension | 2300*2200*2000mm |
| Weight | 2500kg |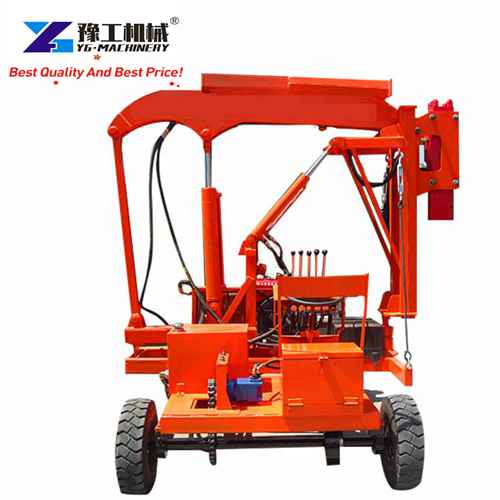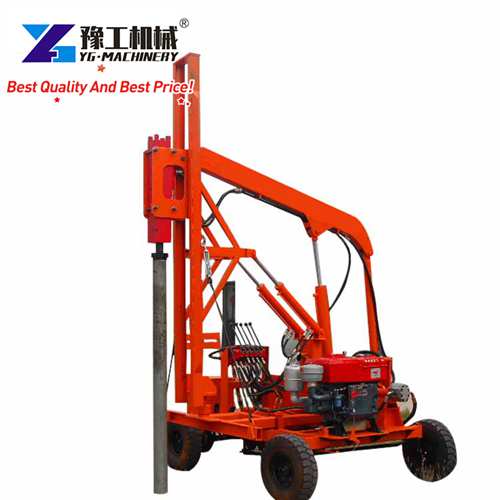 Flood control pile driver for sale
The portable flood control pile driver is one of the popular Pneumatic pile drivers. The machine adopts an integrated design, the power of the gasoline engine is converted into pneumatic power and transmitted to the impact rammer through the cylinder to achieve the beating action. And the pile foundation is beaten without damage by the partition plate, which realizes the artificial beating. High frequency, sufficient power, fast speed, and high efficiency.
Check our popular floor control pile driver models below.
Model
YG-20
YG-37
YG-50
YG-70
Rated air pressure
0.4-0.7MPa
Impact frequency
≥1000BPM
★

Impact energy

120N.M
300N.M
600N.M
900N.M
Movement stroke of pile hammer
100mm
Air consumption
1 m³/min
1.5m³/min
1.8m³/min
2.4m³/min
★ Applicable wood pile diameter
20-80mm
≤130mm
≤200mm
≤300mm
★ Applicable pipe pile diameter
≤120mm
≤200mm
≤200mm
≤400mm
Pile driving depth
≤2000mm
The piling speed
≤ 1m/min in homogeneous soil
Air volume
1m³/min
1.8m³/min
1.8m³/min
2.8m³/min
Air pressure of the configured air compressor: 0.6MPa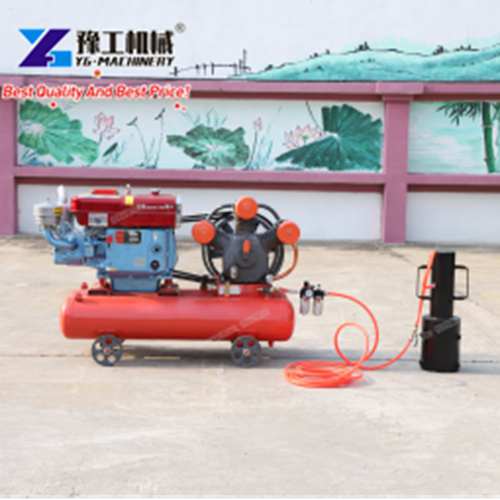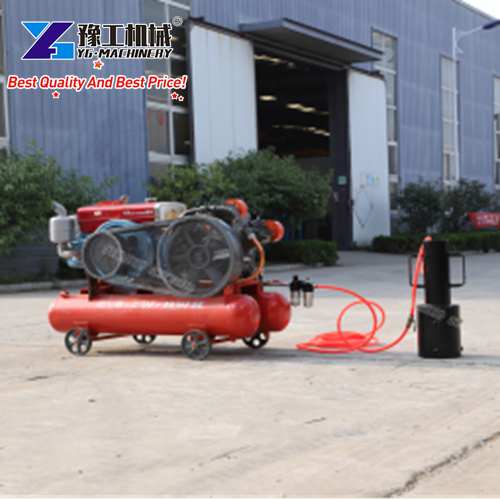 Features
Vibration and impact, various control methods, great power.
The carbon steel shell has high strength and is suitable for harsh conditions.
The latest energy storage system is adopted, which is carefully designed. After energy storage, the impact force is large.
Low gas consumption and long life.
Using the latest technology in the field of pneumatics, the impact force and life are much higher than those of traditional products.
The installation method can be designed and processed on demand.
When percussion, the impact rod directly acts on the target.
The size design is diversified and can be designed according to customer needs.
If you are looking for this type of pile driver, please tell us:
The nature of the pile: wood pile, pipe pile, cement pile, or another special-shaped pile (section view is better)
Depth of penetration
Soil quality: hardness, whether there are gravel, roots, etc.
Note: The flood control pile driver is just the nose and needs to be used with an air compressor.
YG-90 Solar pile driver for sale
A solar pile driver is a kind of multifunctional highway guardrail pile construction machinery. With different configurations, it can accomplish many functions, such as piling, pile extracting and drilling on the stable layer of the road before piling Crawler walking, high walking, and climbing ability. High efficiency. Contact us if you need this equipment.
Technical Parameters
| | |
| --- | --- |
| Model | Solar pile driver |
| Drilling Diameter(mm) | 150-500 |
| Drilling Depth(m) | 1-15 |
| Generator(kW) | 50 |
| Drill pipe diameter(mm) | 70-1200 |
| Rig frame |  crawler |
| Walking speed(km/h) | crawler: 6-15 |
| Hydraulic system working pressure(Mpa) | Crawler:16-22 |
| Rotation angle | 180/360 degree |
| Weight(t) | 3~10 |
| Dimension(mm) | 4000*2000*2800 |
| Weight(T) | 3.5-6.5 |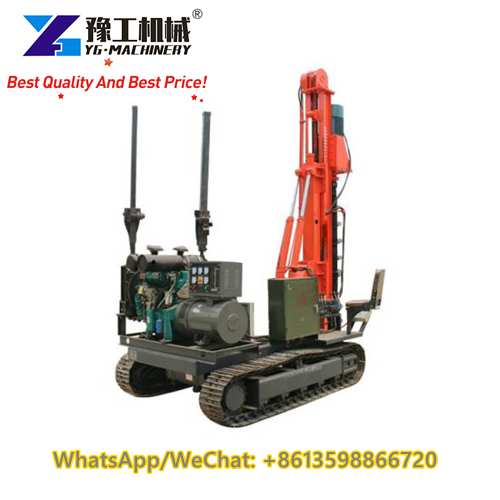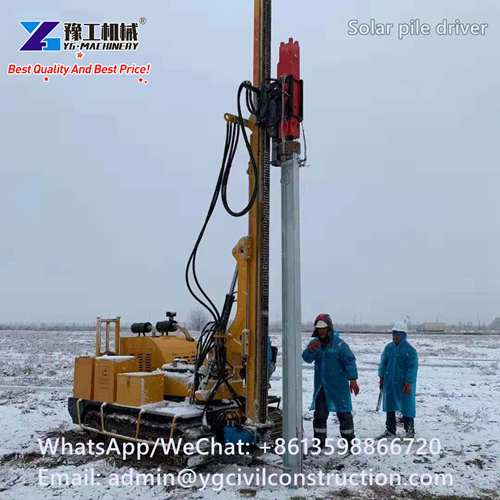 That's all pile driver we present today. If you want to buy a pile driver, please choose it according to the right diameter. We have also Water Well Drilling Rig For Sale, Down The Hole Drilling Rig, Concrete Pile Cutter, and other drilling rigs for sale. If you have any needs, please contact us to get the hammer price. High quality and factory price. Contact us now. WhatsApp +8613598866720.