Shotcrete machine has been used in Phillippines. The shotcrete machine is used to spray concrete and cement. The machine has been installed and used to spray concrete and cement. The customer is very satisfied with the quality and working of the shotcrete machine. Contact us to get the shotcrete machine price.
Read also: 10 Tips that you should know about the concrete mixer truck
What is Shotcrete Machine?
Dry/Wet-Mix Shotcrete Machine is used for applying concrete projected at high velocity primarily onto a vertical or overhead surface. Concrete shotcrete machines are widely used in engineering construction, mines, tunnels, culverts, subways, hydropower projects, underground projects, and coal mines and mines.
Dry shotcrete machine for sale
Dry Shotcrete Machine is used for shotcrete. Shotcrete is a gunned layer of concrete, which obtained as a result of shotcreting. It has the characteristics of reasonable structure, stable performance, convenient operation and maintenance, and long service life.
YG-7 shotcrete machine for sale is widely used in mines, tunnels, culverts, subways, and hydropower projects; underground engineering and coal mine roadway sprayed concrete construction operations; various wall reinforcement sprayed fine stone concrete; various types of industrial furnaces, lining refractory spray molding or repair; various slope protection greening construction, soil transportation and jet.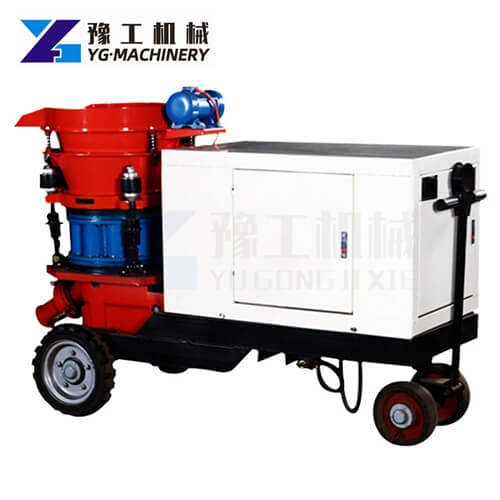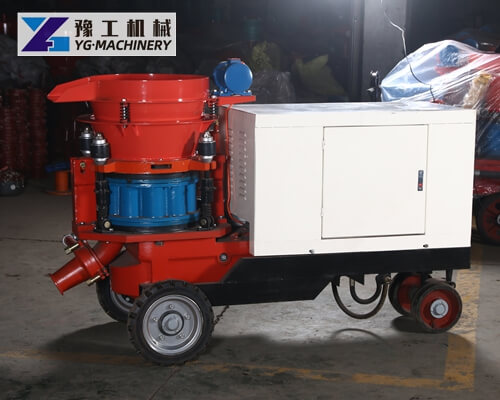 Parameters
Dry Shotcrete Machine

Model
YG-3
YG-6
YG-7
Capacity
3 m³/h
6 m³/h
7 m³/h
Max Delivery Distance
200 m
200 m
200 m
Water Cement Ratio
<0.4
<0.4
<0.4
Max Aggregate Size
20m
20m
20m
Rotor Diameter
350mm
440mm
480mm
Working Pressure
0.4-0.6 mpa
0.4-0.6 mpa
0.6-0.8mpa
Air Consumption
3-4 m³/h
6-8 m³/h
7-8 m³/h
Motor
3 kw
5.5 kw
7.5 kw
Dimension
1040*550*950 mm
1300*705*1300 mm
1600*750*1200 mm
Weight
260 kg
600 kg
700 kg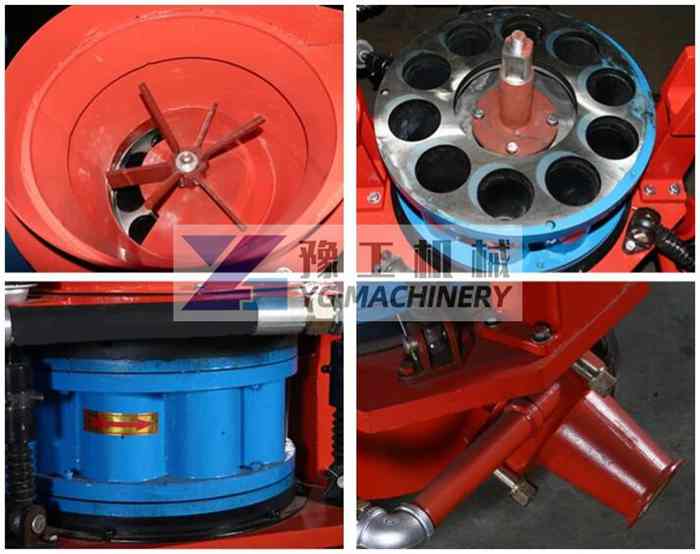 Gunite machine for sale
YG wet and dry shotcrete machine are composed of four parts: feeding system, conveying system, accelerating agent metering system, and control system. Shotcrete machine is a new type of high-efficiency shotcrete machine, which is mainly suitable for concrete shotcrete operation of 5m*5m section roadway. The equipment has a reasonable structure, humanized design, reliable performance, convenient operation and maintenance, and long service life. No dust, low noise, and low rebound rate when working. This machine greatly reduces the dust concentration near the machine and at the nozzle, improves the working environment of workers, and reduces pneumoconiosis caused by dust.
Working principle
The cement slurry pumped by the mud pump is mixed with the sand and gravel sprayed by the spraying machine and the accelerator is mixed in the mixer, and then the mixture is sent to the spray gun by the conveying pipe for spraying operation.
Advantages 
Straight-through rotor type non-adhesive material cavity, smooth discharge, high efficiency, and time-saving.
Low pressure, low-speed cyclone wind, thin flow conveying, uniform and stable material flow, high spray layer strength.
Four-point elastic compensation clamping, good sealing effect, less dust around the machine, and long service life of wearing parts.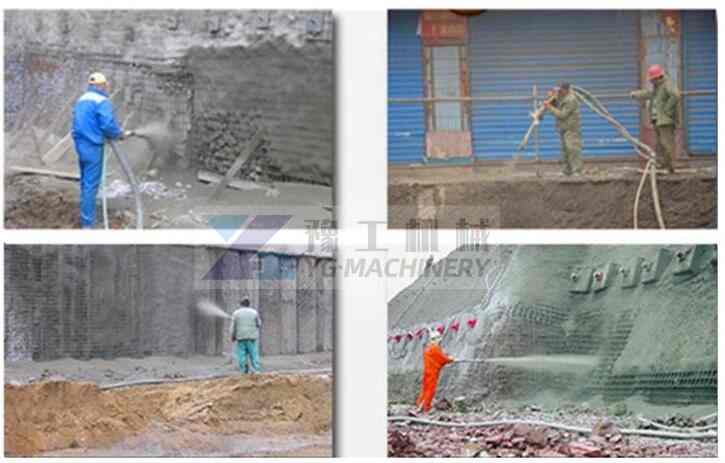 Shotcrete machine price
YG Machinery is a large engineering machinery manufacturing enterprise that focuses on research and development. As one of the top 20 wet and dry shotcrete equipment manufacturers, YG gunite sprayer is appreciated by customers from all around the world, like Phillippines, Switzerland, Panama, Canada, etc. Contact us to get the shotcrete machine price.
Besides the shotcrete machine for sale, Henan Yugong Machinery provides also putty spray machine, hydraulic mortar pump, and other types of machine, such as concrete boom pump, concrete mixer pump, trailer-mounted concrete pump, etc. If you have any questions or want to get the shotcrete machine price, you can contact us to get more details. WhatsApp +8613598866720.