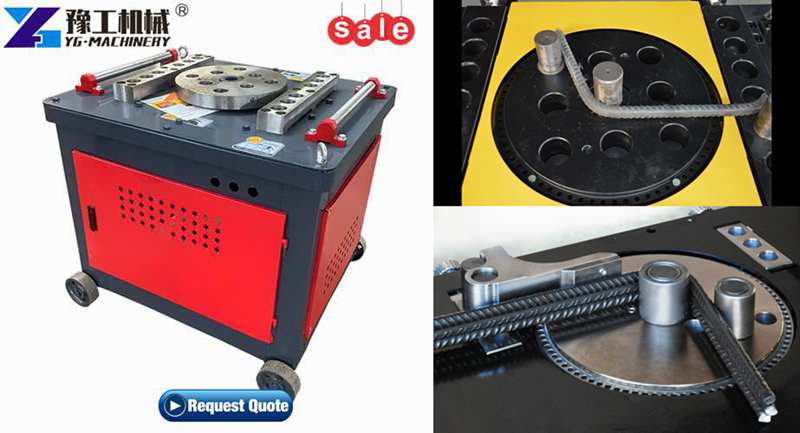 Robert from Canada ordered 2 sets of steel bending machine from YG Machinery.
"It is very nice equipment. It works well. Thank you guys for the great machine! And awesome service afterwards!!!

Robert
YG Steel Bending Machine for Sale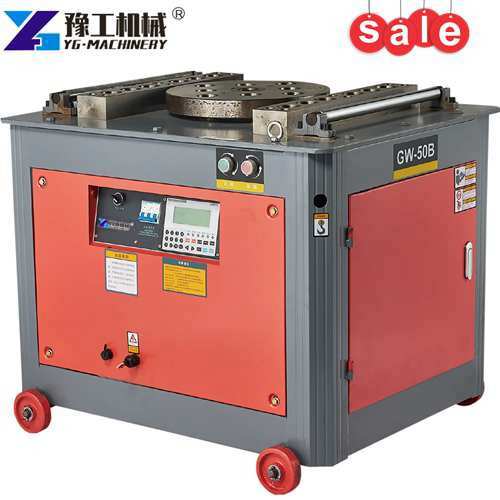 Steel bar bending machine, because of its simple structure, reliable operation, and sensitive operation, widely used in various shapes required by bridges, construction projects, etc., is very popular in construction, bridge prefabrication factories, and construction site operators.
Technical Parameters
| | | | | |
| --- | --- | --- | --- | --- |
| Model | GW40 | GW40A | GW40B | GW50A |
| Motor Power | 3KW | 4KW | 4KW | 4KW |
| Round steel diameter | 6-26mm | 6-40mm | 6-40mm | 6-48mm |
| Rebar diameter | 6-22mm | 6-25mm | 6-28mm | 6-36mm |
| Disk speed | 5-10r/min | 5-10r/min | 5-10r/min | 5-10r/min |
| Net weight | 200KG | 240KG | 240KG | 320KG |
| Dimensions | 800*700*650 | 860*790*780 | 860*800*850 | 1000*760*800 |
The steel bar bender machine is suitable for processing various carbon steel, screw steel, round steel, etc. in construction projects into various geometric shapes required by the project.
Which model is more suitable for your project? Do you want to know the rebar bending machine price? Please leave your requirements here and our sales manager will contact you as soon as possible.
Structure and composition of steel bar bending machine
Electrical control device: The electric control device is mainly composed of straightening motor, bending hoop motor, hydraulic system motor, solenoid valve, console, length control travel switch, and wiring.
Automatic hoop bending device: The hoop bending device of the hoop bending machine is completed by five dials driving five bending points. When working, the length travel switch sends a signal to the hoop bending motor, and the hoop bending motor drives the dial to complete the hoop bending. every action.
Straightening part: The straightening part is composed of 19 straightening rollers. The straightening rollers are driven by the motor V-belt drive system and the reducer. The straightening rollers are composed of 14 upper and lower rollers and five horizontal rollers. Lower the amount to achieve steel bar straightening.
Hydraulic cutting part: This part is driven by a 4kw electric motor to drive the hydraulic pump, solenoid valve and overflow valve to control the cutting cylinder. The cutting device is installed at the front end of the bending hoop, and the signal is given by the limit switch of the bending hoop when it is working, and the cutting and bending hoop are running synchronously.

Why you should choose YG Brand?
YG steel bending machines have been sold to various countries. They have no bad feedback about our machine quality and after-sales service.
The steel bending machinery produced by the YG factory will undergo multiple tests. It ensures that customers get their machines running well.
Our rebar processing machines have passed CE, SGS certification to meet the requirements of importing countries for mechanical products. It can help customers greatly reduce import costs.
When customers buy machines from our factory, we provide free product knowledge training using rebar bending devices.
YG provides OEM service. Customers can purchase bent steel machines with their own designs and logos.
We have CE, SGS, and ISO logos to provide customers with high-quality machines.
Our customer service department provides customers with high-quality after-sales service at any time.
CNC Rebar Bending Machine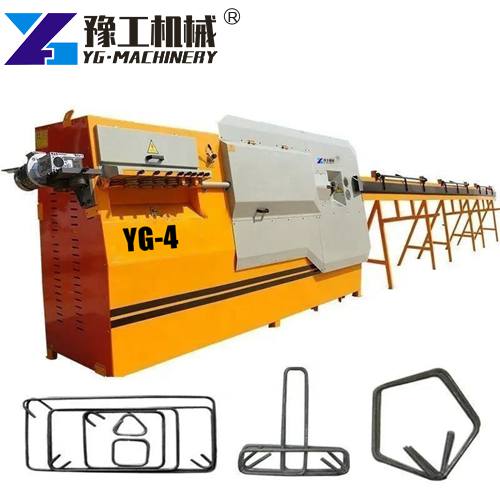 If you are looking for a CNC Bending Machine, you can try our YG-4. It can bend the steel bar with a maximum diameter of 16mm and continuously produce products of any plane shape.
Contact us to get the CNC
Rebar Bending Machine Price
Firstly, our steel pipe benders are manufactured with advanced technology. Secondly, because all of our manufacturers and suppliers are equipped with advanced equipment and first-class employees, our steel bar bending machine is of high quality but low price. Third, we have a wide range of sizes of steel bending machines to choose from. And our steel bar bending machine has strong rigidity and durability.
Are you looking for a hoop bending machine? Please contact us to get the automatic steel bar bending machine price here. Our sales manager will contact you as soon as possible.