Alexandre from the United States wants to start a new factory to produce disinfectant wet wipes. So he researched the mot wet wipes machine on Google. And he found YG Machinery. Then Alexandre left the inquiry for the wet wipes machine for sale. As soon as we received the message, our sales manager John contacted the customer and confirmed the machine that he wanted. Because we are the wet wipes machine factory, the machine price is really reliable and competitive. Of course, Alexandre is also satisfied with the price. After the communication with his technical team, finally, he decided to make an order.
And now, the wet wipes manufacturing machine has been transported to the USA. Contact us to get the wet wipes machine for sale price now.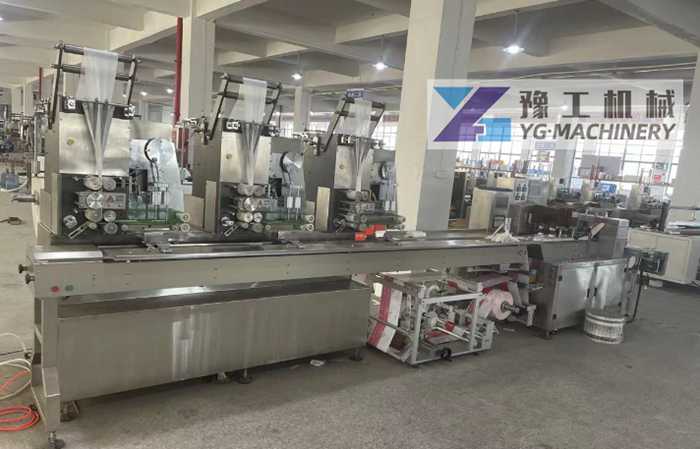 Wet Wipes Production Line
The full automatic wet wipes production line is composed of serval machines: wet wipes folding machine, wet wipes rewinding machine, and wet wipes packaging machine.
Here is a working video:
Wet wipes machines: parameters, cost, manufacturer
The wet wipes production line adopts a fully automatic control system. And this Wipes manufacturing machine is specially designed for wet tissue making and packaging. With a lower feeding mechanism, fast speed, and stable operation.
In addition, it can effectively avoid the secondary pollution of wet wipes in the packaging process. The machine is also suitable for the production and packaging of 35-100 grams of wet wipes. Clearly, the whole machine is compact, generous, and safe. I'm sure that it is absolutely your first choice. Now, click the button below to get the latest price.
Parameter of Wet Wipe Making Machine
| | |
| --- | --- |
| Applicable materials | Spunlace nonwoven, thermal bonding, degradable non-woven fabrics,wet-strength paper, etc |
| Specification of nonwovens | Max W260mm, Φ1200mm |
| Applicable packing materials | PET/PE BOPP CPP PET/AL and other hot sealable materials |
| Film rolling specification | Max W230mm, Φ360mm |
| Size of wet wipes | L:55-110mm W:30-60mm |
| Unfolded size | L:110-220mm W:140-260mm |
| Packing size | L:80-200mm W:40-70mm |
| Product capacity | 80-200 bags/min |
| Source of air required | 0.6-0.8Mpa,100L/min |
| Power | AC220V 50/60Hz,8KW |
| Size of the whole machine | L:4000mm,W:3000mm,H:2000mm |
| Machine net weight | About 2200kg |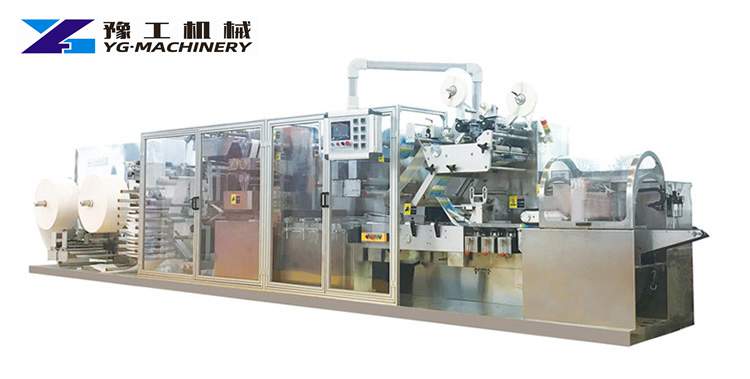 Wet wipes manufacturing machine cost
YG Machinery manufactures all types of CE-certified wet wipes machines such as baby wipes machines, disinfectant wipes packaging machines, and wet wipes folding machines… Our wet wipes machines have the advantages of high capacity, low cost for maintenance, high performance, factory price, and low human power.
If you want to start a wet tissue business, or if you want to buy a new wet wipes machine, you can contact us to get the wet wipes machine price here.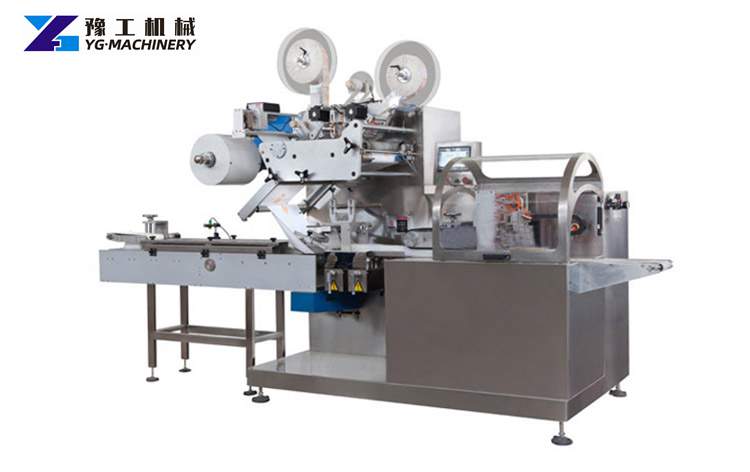 Wet wipes folding machine
Below is the introduction of machine performance:
Scientific design, compact structure, convenient operation, and maintenance.
Spunlace non-woven fabric humidification device: single-sheet spray type.
Liquid adding system: including agitating device, water adding device, independent water return device, adjustable water volume.
Raw material cutting system: length can be adjusted.
Photoelectric detection can automatically stop if there is no cloth.
Safety protection: emergency stop system, component protection cover, plexiglass protection door
PLC control system, monitoring system.
Electrical control system: PLC system, man-machine interface, control circuit, power circuit, and other auxiliary control.
Wet Wipes packaging machine
This wet wipes packaging machine is connected to the automatic wet tissue folding machine.
Production process: After folding, the wet tissue will enter the packaging machine through the automatic feeding rack. And then you can set the film length, the opening label, and the opening position. The equipment will be reciprocating horizontal sealing slitting and the finished product is out.
Generally, the standard equipment will be composed of a production date printing device, punch opening device, bag gusset device, electric eye automatic tracking device, adjustable bag maker, gusset device, and movable operating screen.
Wet Wipes packaging machine Parameters
| | |
| --- | --- |
| Bag size (mm) | length 65*330mm width 30*150mm height 5*40mm |
| Longitudinal and horizontal sealing strength (Newton/mm) | 15N/mm² |
| Packing speed (bag/minute/second) | 40~220Bags/min |
| Packaging film width (mm) | 90~350mm |
| Power specification | 220V 50/60Hz 2.7KW |
| Machine weight (kg) | 680KG |
| Dimensions (length x width x height) | 3780 x 640 x1560mm |

Rewinder Manufacturer: Wet wipes rewinding machine
Overall, the wet wipes rewinding machine is a roll wet tissue machine that produces disposable aviation and catering wet tissues in barrels. Based on rich production experience and design concepts, Yugong Machinery has independently developed advanced technologies such as non-woven automatic tapping, automatic winding mandrel extraction, and LCD touch screen intelligent control.
In conclusion, if you need to buy a wet wipes production line, do not hesitate to leave your inquiry. Our sales manager will contact you as soon as possible with the best offer. WhatsApp +8613598866720.