An Injection molding machine, also named injection moulding machine, is a device used to manufacture plastic products by the injection molding process. It is widely used for making thermoplastic into various shapes of plastic products. By using plastic molding dies, for example, PVC rain boots, wire goods, automobile components, containers, safety gears, etc.
Injection molding machine: Mechanical, Hydraulic, Electric
Polyvinyl Chloride (PVC) is one of the most popular industrial thermoplastics chosen to create a variety of plastic products. So the PVC Injection Moulding Machine is also a good investment to make benefits. The injection molding machine can be divided into many types. Such as fully automatic injection molding machine, high speed injection molding device, all-electric injection molding equipment, PET injection molders, vertical injection molding equipment, hydraulic duo injection molding device, etc.
The plastic molding equipment is suitable for making thermoplastic or thermosetting plastics into various shapes of plastic products using plastic molding dies. Advanced technology and decades of injection machine manufacturing experience. YuGong Machinery has designed and can manufacture the high speed plastic injection molding machine. Strict selection of hydraulic and electrical components makes the machine have very good performance. Once it is launched on the market, it is welcomed by the majority of users.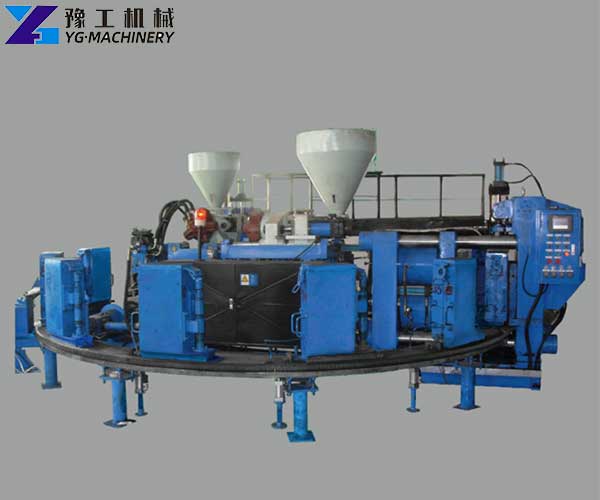 Parameters
| | | |
| --- | --- | --- |
| Model | YG-PX | YG-SX |
| Raw Material | PVC | PVC |
| Motor | 3phase asynchronous motor | AC permanent magnet servo motor |
| Motor Power | 22&11kw | 15&8kw |
| Electrical Heat | 9&8kw | 9&8kw |
| Disk Diameter | 4.2m | 4.2m |
| Stations | 10 | 10 |
| Machine Size(L*W*H) | 5.1×4.2×2.6m | 5.1×4.2×2.6m |
| Screw Diameter | 85&55mm | 85&55mm |
| Injection Volume | 1077&356g | 1077&356g |
| Mold Size | 680×250×500mm | 680×250×500mm |
| Clamping Force | 300&60tons | 300&60tons |
| Output | 80 pairs/h | 80 pairs/h |
| Weight | 17T | 17T |
Features of Plastic Injection Molding Machine
Multifunctional: The machine is used to produce single and double color crystal rain boots, rocking shoes, and labor insurance shoes.
Fully automatic: The machine adopts fully automatic computer control and a PLC plus human-machine interface, which makes it simple to operate and can independently and accurately set the process of different molds.
Wide adaptability: The mold adjustment is convenient so that the machine has wide adaptability.
Stable and good performance: The injection is controlled by the electronic ruler.
Configure full servo system, high quality hydraulic components, fast response, high energy saving, and long service life.
Click the button to get the plastic injection molding machine price here.
Components of PVC Injection Machine
The equipment is mainly composed of plasticization device, injection device, mold clamping device, heating and cooling system, hydraulic system, feeding device, electric control system, lubrication system, safety protection, and monitoring test.
Plasticization device: This device is composed of a screw, barrel, screw head, nozzle, and other main components. The transmission device that drives the screw can use a motor to drive the screw to rotate through the gearbox gear, or a hydraulic motor can directly drive the screw to rotate.
The injection device is composed of main parts such as an injection seat, a screw movable injection cylinder, and an injection seat movable cylinder.
The mold clamping device consists of a mold clamping device, a mold distance adjustment device, and a product ejection device.
The heating and cooling system is used to heat and cool the barrel, nozzle, and form mold.
The hydraulic system includes oil pumps, hydraulic motors, various control valves, accumulators, coolers, hydraulic oil, and cooling water pipelines, etc.
The electrical control system includes barrel temperature control, mold temperature control, action program control of various parts, control of motors and valves in the hydraulic system, fault detection alarm control, safety protection monitoring control, etc.
The feeding device includes components, such as automatic feeding, feeding metering, and hopper mixing.
Polyvinyl Chloride (PVC) Characteristics
Here are the most significant properties of Polyvinyl Chloride (PVC):
Density: PVC is very dense compared to most plastics (specific gravity around 1.4)
Economics: PVC is readily available and cheap.
Hardness: Rigid PVC ranks well for hardness and durability.
Strength: Rigid PVC has excellent tensile strength.
Injection molding machine Process
Step 1. Clamping: First, the mold must be securely closed by the clamping unit.
Step 2. Injection: Then, the heated plastic is injected into the mold.
Step 3. Cooling: After that, the plastic inside the mold is ready to cool. The plastic cools and it will solidify to the shape of the desired part.
Step 4. Ejection: The mold opens and the ejector rod moves the ejector pins forward. The part falls and is captured in a bin located below the mold.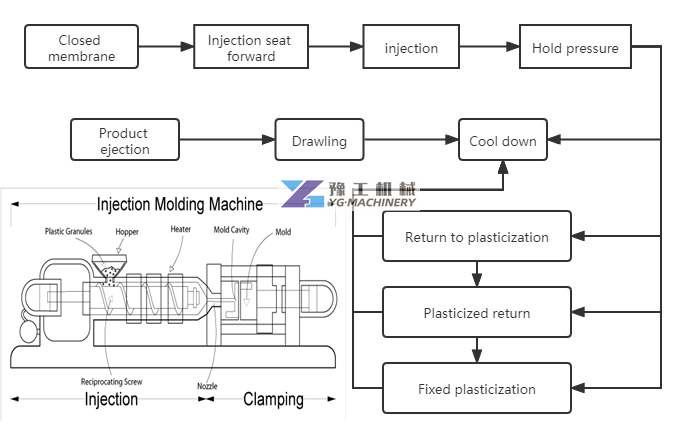 What are the different types of injection molding methods?
Besides the thermoplastic injection molding process, there are also 4 other types of injection molding methods:
Insert molding
Overmolding
Hot-runner molding
Cold-runner molding
TOP 10 Injection molding machine Manufacturers and Brands
There are too many injection molding manufacturers and brands to choose from. Also, which type of injection moulding equipment is more suitable for you? Hydraulic, electrical, or mechanical? Here are the top 10 injection molding machine brand in China:
Haitian Plastic Machinery Group Co. Ltd.
Ningbo Beilun Highsun Machinery Co.,ltd
Guangdong Yizumi Precision Machinery Co.Ltd.
Powerjet Plastic Machinery Co.
Shuangsheng Injection Molding Machine Co. Ltd.
Ningbo Chuangji Machinery Co. LTD.
Husky Injection Molding System (Shanghai) Co. Ltd.
Engel Machinery (Shanghai) Co. Ltd.
Borch Intelligent Equipment Co. Ltd.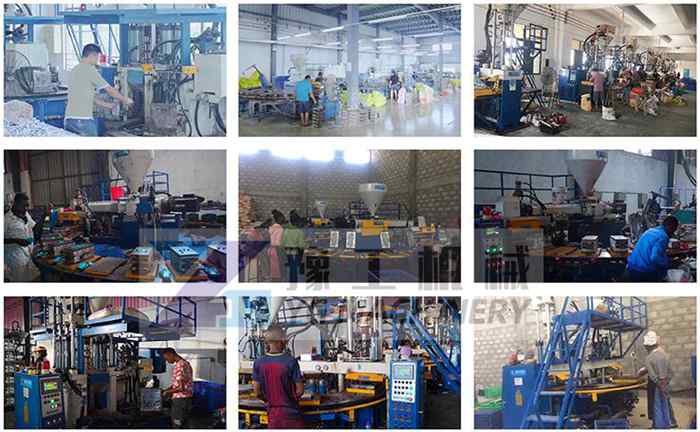 In conclusion, Henan Yugong Machinery is a reliable and trustworthy option for you. If you have any questions related to plastic injection molding manufacturing, do not hesitate to contact us.