A high speed automatic rebar thread rolling machine is exported in Mexico from prequalified supplier YG Machinery. The customer is very satisfied with the machine quality. Contact us to get the thread rolling machine for sale.
Related article: What is Thread Rolling?
Thread rolling machine for sale
10 November, we got the inquiry from Leo, a Mexican steel manufacturer, for the hydraulic rebar thread rolling machine. After chatting with the customer and confirming his requirements, our sales manager introduced the hot sale model YGS-40. Click the button here to get the YGS-40 Hydraulic Thread Rolling Machine price.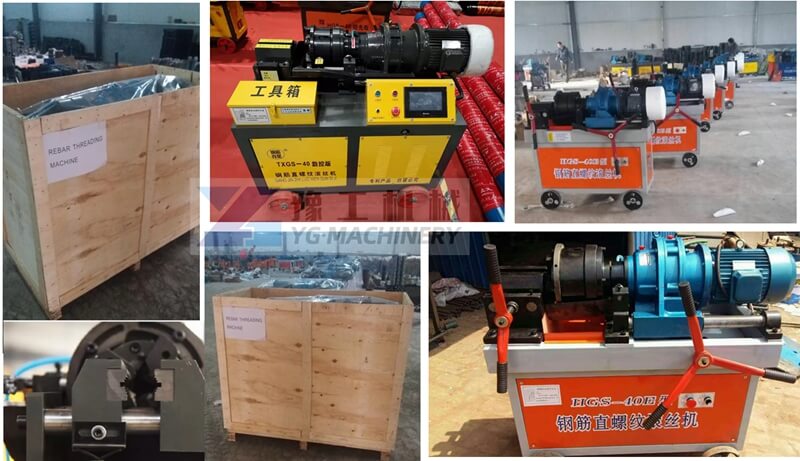 Parameters
Model
YGS-40
YGT-40
YGA-40
Processing diameter range
16-40mm
Thread rolling length
0-80mm
0-80mm
0-100mm
Power voltage
4kw/380v 50hz
4kw/380v 50hz
7.5kw/380v 50hz
Working efficiency
15s/forming
8s/forming
One-touch auto forming
Machine weight
320kg
350kg
400kg
Machine size
115*50*106cm
110*60*130cm
126*70*106cm
Type
Standard type
Upgrade type
Full automatic type
This automatic thread rolling machine is composed of the frame clamping mechanism, feed slide, reducer, and thread rolling head, cooling system, and electrical system. It is mainly used for straight thread head processing of ribbed steel bars in construction projects.
Features of thread rolling machine:
The fully automatic straight thread rolling machine is a newly developed multifunctional thread rolling lathe, which can roll the thread angle of 75. The thread can also be rolled at any angle, just change the rolling wheel.
Straight thread rolling machine automatically can return after rolling.
Reasonable design, convenient use and maintenance, and only 2 minutes to change the tool.
The tool adopts an automatic opening and closing structure, the steel bar is clamped at one time, and the wire head can be processed in 30 seconds, which has high efficiency.
The cold rolling process of the thread rolling wheel is adopted, and the processing of the steel wire head is "molded", with high precision and a 100% pass rate.
The operation is convenient and fast, and the rib stripping and rolling of HRB335 and HRB400 ribbed steel with φ12-40mm can be completed at one time with a thread rolling disc.

Thread rolling machine price
The price is always the important factor that you are concerned about when you want to buy something. Hydraulic thread rolling machine price depends on the specifications. And the fact you should know is, YG Machinery is a rebar processing machine manufacturer, so you will get a factory price. You can click the button below to get the detailed quotation of the rebar thread rolling machine for sale.

YG Machinery is one of the top 10 machine manufacturers and suppliers in China. If you also need to buy a steel bar thread rolling machine, you can contact us to get a detailed quote. WhatsApp +8613598866720
Besides the thread rolling machine, YG Machinery provides also other rebar machinery, such as rebar bending machine, rebar upsetting machine, spiral bar forming machine, rebar straightening and cutting machine, rebar derusting machine, etc. If you have any questions or concerns, please feel free to contact us. We are here to help!