In the previous article, we have presented types of concrete pumps for sale in the market. You may be confused about the functions of the concrete mixing pump and concrete delivery pump. Here, we will compare the functions of the two machines.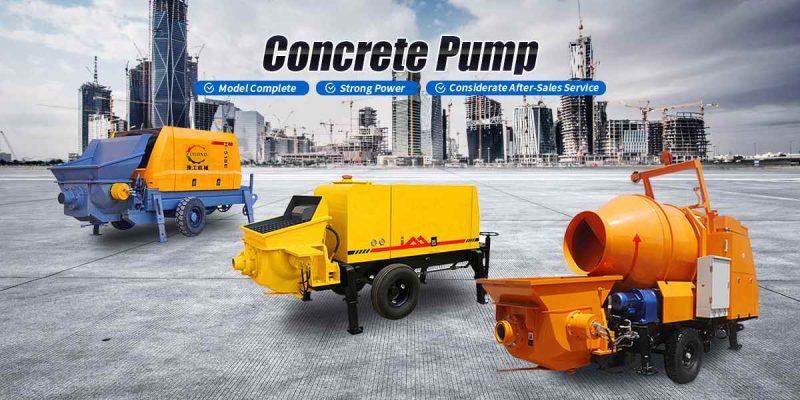 Functions of concrete mixer pump
A concrete mixer trailer pump is composed of professional equipment that combines concrete mixing and pumping into one. The component structure mainly includes a hydraulic system, operating mechanism, stirring device, reducer, cleaning system, etc.
The Concrete mixer trailer pump is a small concrete delivery pump that adopts a fully automated construction operating system and integrates feeding, mixing and high-pressure pumping. The pump is easy to operate, stable in performance, and easy to move.
It is suitable for mixing large aggregates and pumping concrete for building houses in rural areas.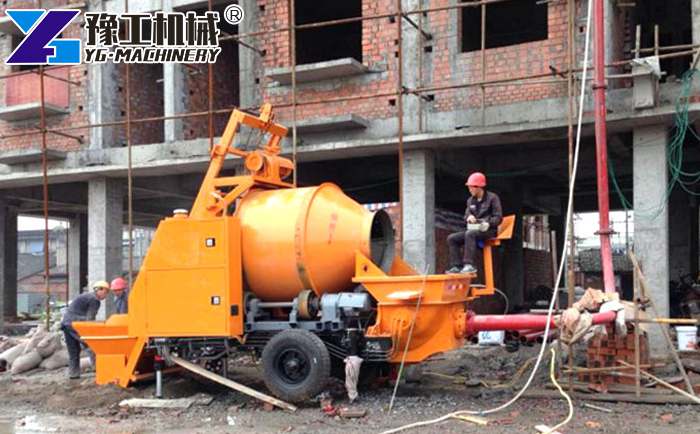 The S valve concrete pump is a closed system with good sealing performance and high delivery pressure.
High pumping height. The large-diameter concrete cylinder has a long effective stroke, which solves the problem that the agitator drag pump cannot absorb large aggregates.
Aggregate size: pebble 50mm, crushed stone 40mm, can be pumped up without any additives.
Concrete Mixer with pump is mainly used for concrete transportation in large-scale concrete projects such as high-rise buildings, highways, and overpasses.
Working Principle
The working principle is to take out the power of the engine through the power take-off device, drive the variable pump of the hydraulic system, convert the mechanical energy into hydraulic energy and transmit it to the quantitative motor, and then the motor drives the reducer, and the reducer drives the mixing drum device to mix the concrete in the tank, and then use the delivery system to pump the concrete.
The mixing drum is the loading container for concrete. In the process of feeding and transporting, the mixing drum is rotating, and the concrete moves inward along the blades. When discharging, the mixing drum rotates in reverse, and the concrete is discharged outwards along the blades.
For details, you can check our hot-selling model YG-30 Concrete Mixer with Pump.
Read more: Concrete Batching Plant | Concrete Mixing Plant
Functions of Concrete Delivery Pump
A concrete conveying pump is a kind of concrete conveying equipment that continuously conveys concrete that meets the pumping conditions to the pouring site through horizontal or vertical pipelines. It is powered by a motor or diesel engine.
The concrete pump is widely used in high-rise buildings, municipal construction, electric power, energy, transportation, and other civil and industrial buildings that require large stars, high grades, strict quality requirements, and long transmission distances, especially for engineering construction on narrow sites.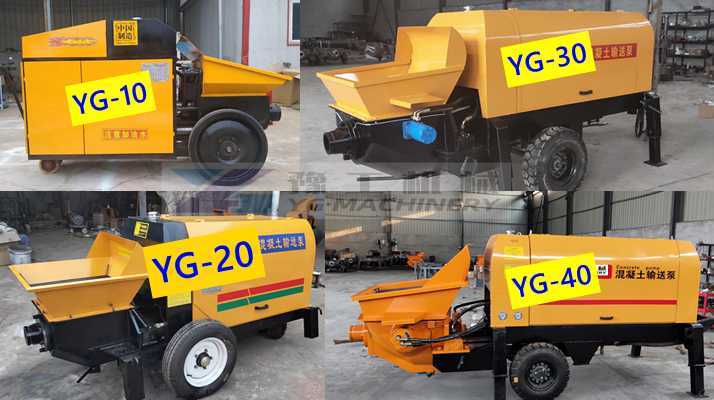 Generally speaking, these two types are used to pump concrete, but the mixer pump has its own mixing function, while the delivery pump does not have it, it is a pure delivery pump. YG Concrete Mixer Pump and Delivery Pump can reach vertical 100 meters and more than 300 meters horizontally.
If you are looking for this kind of concrete pump, please contact us to get the machine's price.
WhatsApp/WeChat: +8613598866720
Email: admin@ygcivilconstruction.com
Henan Yugong Machinery
As a well-known concrete machinery brand in China, YG Machinery has a complete after-sales service team with more than 60 maintenance service engineers.
Free Consulting and Training Services
Provide free technical consulting services and provide equipment solutions.
Provide technical and professional training for free, and train operators for you for free.
On-site free installation and debugging.
Maintenance and after-sales service
On-site free operation guidance, providing on-site 24-hour tracking service for half a month.
Establish a complete product quality tracking record to ensure regular visits and inspections of the products you purchase, which has solved your worries.
24-hour online after-sales service.