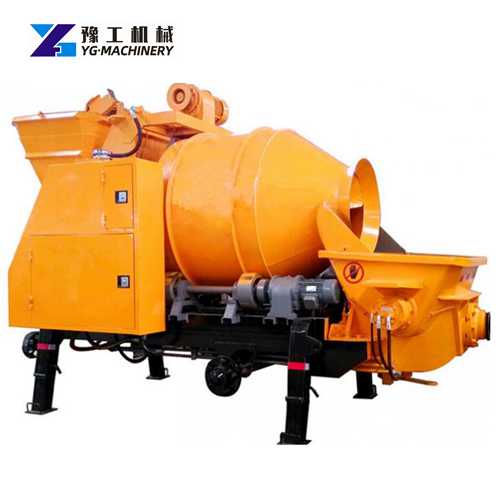 YGS40R Diesel Concrete Mixer Pump
Capacity: 30-40 m³/h
Easy to operate
Stable in performance
Easy to move
What is the Diesel concrete mixer pump price? Click the button below to request a free quote.
High Efficiency Diesel Concrete Mixer Pump Machine for Mixing and Pumping
A Diesel Concrete Mixer Pump is a small concrete delivery pump that adopts a fully automated construction operating system and integrates feeding, mixing, and high-pressure pumping.
Parameters
| | | |
| --- | --- | --- |
| Model | YGS30R | YGS40R |
| Max Theoretical Concrete Output(m³/h) | 30/23 | 40 |
| Max Concrete outlet Pressure(Mpa) | 9 | 10 |
| Aggregate Size(mm) | ≤30 | ≤40 |
| Diesel Engine Power(kW) | 66 | 82 |
| Concrete Cylinder Diameter(mm) | Φ140×1000 | Φ180×1000 |
| Oil Tank Capacity(L) | Φ80×1000 | Φ100×1000 |
| Max Theoretical Conveying Distance (Horizontal Distance/vertical Height) | 120/500 | 140/600 |
| Pipe Cleaning Mode | Washing | Washing |
| Overall Dimension(mm) | 4500×2200×2600 | 4500×2200×2600 |
| Total Weight(kg) | 4800 | 5200 |
| Discharging capacity(m³) | 0.45 | 0.45 |
| Feeding capacity(m³) | 0.8 | 0.8 |
| Production rate(m3/h) | 10-14 | 10-14 |
Where you can use Diesel Concrete Mixer Pump?
In the construction of large buildings, bridges, and tunnels, concrete pumps are very common. The mixing pump is a concrete pump specially designed for small civil buildings.
The concrete mixer with a pump has a wide range of applications. It can be used for the transportation of concrete in engineering construction, the transportation of green soil, the grouting of foundation piles, and the transportation of sludge.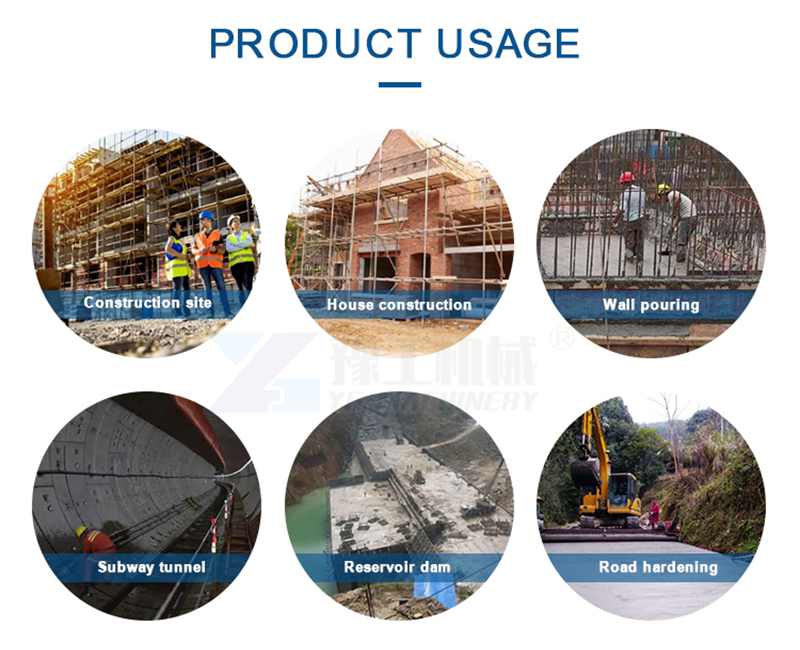 Advantages of the Concrete Mixing Pump
The perfect combination of mixing and pumping saves rack weight and transportation space;
The small concrete pump carries the mixer, which is convenient for hauling in rural areas and has high work efficiency;
Save labor costs and reduce labor intensity;
Smaller power, considering the carrying capacity of the rural power grid;
Simple operation, easy to use, use the remote control to operate the mixing pump, saving trouble and worry;
It adopts a double-cylinder full hydraulic pumping system, which can transport conventional large aggregate or crushed stone concrete, with stable performance, safety, and reliability.
Remarks: The efficiency can reach 4-6 times of the traditional fixed mixer and concrete pump. As we all know, concrete pouring construction has an interval period, and the construction interval between two floors is 7-10 days. After the poured concrete is solidified, the maintenance is qualified, and the strength is reached, the next step of the reinforcement and formwork support process can be carried out. Because the cost of relocating traditional fixed mixers and concrete pumps is high, and the relocation takes a long time, the operator can only rest during this period. So the Diesel Concrete Mixer Pump saves time and money.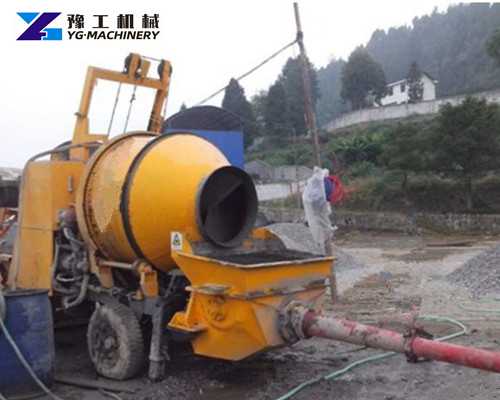 What is the concrete mixing and pumping machine price?
Do you need a concrete mixer and pump machine for the transportation of concrete in your next engineering construction? Please leave your messages here.