Concrete line pumps are one of the popular concrete pump trucks to deliver concrete. The line pump is very simple and is made of a long hose that is attached to a stationary pump on a mounted trailer or truck. Click the button below to get the latest concrete pump price.
Read also: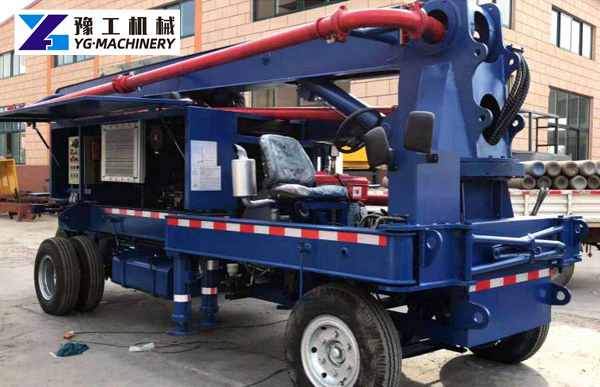 YG 14M Concrete line pump for sale
YG 14M Boom type concrete pump truck is a perfect line pump for urban environments. Concrete line pumping is usually used to perform concrete pumping jobs. It is composed of a long hose pipe, pumping system, placing system, chassis, washing system, lubrication system, cooling system, etc. The concrete boom truck can do the same time concrete pumping and placing work. Here are the concrete boom pump parameters:
| | |
| --- | --- |
| Model | YG 14m Line Pump |
| Pumping System | Max Theoretic Output (High/Low Pressure) (m3/h) |
| Max Theoretic Concrete Output (MPa) | 10 |
| Rated Working Pressure (MPa) | 31.5 |
| Distribution Valve | S valve |
| Oil Cylinder Diameter x Stroke (mm) | Ф180×1300 |
| Hydraulic Oil Cooling | Air cooling |
| Max. Aggregate Dimension (mm) | 30 |
| Max. Placing Height (m) | 22 |
| Horizontal Distance (m) | 15.4 |
| Slewing Angle (掳) | 200 |
| Pipe Diameter (mm) | 125 |
| Min. Height of Opening Placing Boom (mm) | 6500 |
| Outrigger opening width (m) | 5.5 |
| Chassis and the Whole Machine | Chassis Model |
| Engine Power (kW) | 82 |
| Oil Tank Cubage (L) | 400 |
| Tail Gas Exhaust Standard | China IV |
| Overall Dimensions (mm) | 7500x2200x2920 |
| Others | Lubrication Mode |
| Oil Tank Volume (L) | 370 |
| Control Mode | Manual + remote control |
| Maximum Water Pressure (Mpa) | 0.7 |
| Water Tank Volume (L) | 500 |
| Pipe Cleaning Mode | Water cleaning/dry cleaning |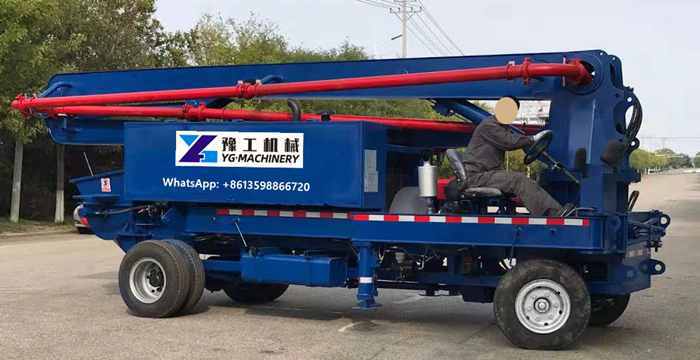 Advantages and Features of Line Pump for Sale
YG 14m High-Quality Concrete Line Pump has many advantages.
The concrete ground line pump can transport concrete quickly and with no mess.
The design of the hopper and S valve and so on adopt I-DEAS software to calculate, the hopper and S valve have good rigidity to avoid the phenomenon of hopper distortion and S valve breakage.
Large valve changing direction, makes the main pumping loop quick response, small leakage, good stability, high reliability and high resist contaminative capability.
The hydraulic system has safe relief protection, at the same time when the system pressure is over, the main oil pump cutting device makes itself protected reliably.
The radiator equipment makes the working oil temperature of the hydraulic system below 70℃ and makes the machine at normal status.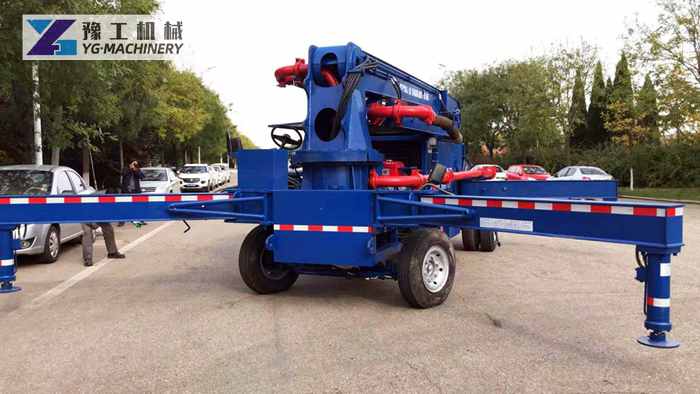 Concrete boom pump Applications
This concrete boom pump or line pump is used for a large-scale project with a lot of concrete pumping jobs.
Apartment building Construction
Infrastructure.
Construction site (like bridges or other structures)
Repaving a driveway
Building a swimming pool
Or other smaller-scale construction sites.
Working principle
When the roller is used to squeeze the rubber tube, the rubber tube has the ability to suck people and output concrete, so as to achieve the purpose of conveying.
The piston has a rod cavity and a rodless cavity in the cylinder. There are various sealing rings on the piston to achieve the sealing of the two cavities. After the hydraulic oil enters the rodless cavity or the rod cavity, the piston is pushed to reciprocate, and then realizes the reciprocating movement of the piston rod. In this way, the unfolding and folding of the boom of the pump truck are realized.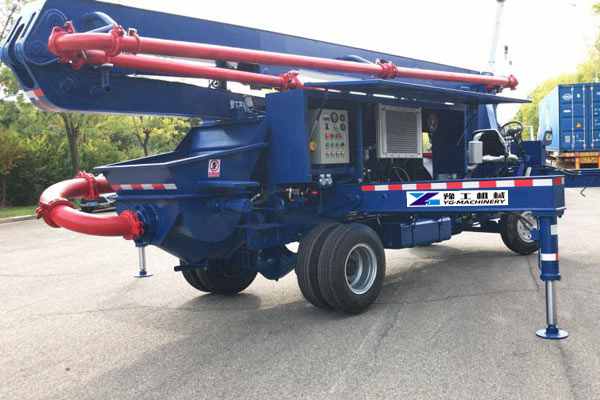 Frequently asked questions
How much is a Concrete line pump?
It costs about $18,500 for entry-level pumps, but for volume pumps with greater pressure, the price increase up to about $65,000 or higher. Remark: The labor costs are lower, one worker can operate these pumps because the pumps include typically a remote control for regulating the concrete delivery.
Concrete boom pump VS. Concrete Line Pump
The concrete boom pump is suitable for a larger project or a commercial project. It can spit out over 150 cubic yards of concrete per hour. In contrast, the concrete line pump is usually used to deliver the concrete for a smaller commercial jobs or a residential job. It is more flexible to move but the concrete does not pour as fast. As for the cost, of course, the concrete boom pump is much more expensive than line pumps. In summary, the concrete line pump is a better choice and sufficient for the needs of a smaller project.
YG Machinery is a professional line pump manufacturer. For any questions, you can leave your messages below.