The exterior wall mortar spraying machine is a good helper for decoration workers. In modern home decoration, the construction quality of exterior wall insulation mortar is directly related to the construction insulation effect of the exterior wall of the building.
8HP Powerful diesel cement mortar spray plaster machine For Sale
In current construction projects, spraying machine is very commonly used, with simple construction, compact structure, convenient movement, easy maintenance, long service life, and easy cleaning. In the process of construction, it can be directly laid on the rough wall body. The construction method is similar to the construction of a cement mortar leveling layer, and it can be directly constructed by machinery.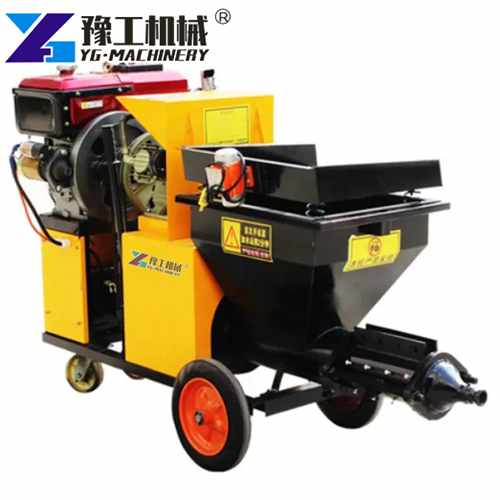 Wall cement plastering machine Parameters
Model
YG-311
YG-511
Production capacity
3m3/h
3-4m3/h
Working pressure
3MPa
3MPa
Applicable materials ratio (water, ash, sand)
0.7—1:1:3
0.7—1:1:3
Voltage level
220V/380V
Motor power
4kw
8HP/12HP diesel engine
Particle size
≤4mm
≤8mm
Transport distance
Horizontal: 30m
Vertical: 20m
Horizontal: 50m
Vertical: 30m
Hopper volume
60L
80L
Displacement of air compressor
0.3m3/min
0.3m3/min
Inner diameter of feeding pipe
32mm
32mm
Total Weight
200kg
320kg
Clique the button below to get the mortar spraying machine price.
What is a mortar sprayer?
The mortar spray machine is an Indoor and outdoor wall spraying, cement mortar grouting, bridge grouting and waterproof surface spraying, fireproof spraying, ceiling spraying, wall spraying, paint spraying, garden spraying, embossed effect paint spraying, sound-absorbing material spraying, waterproof plugging, waterproof leak repair special equipment.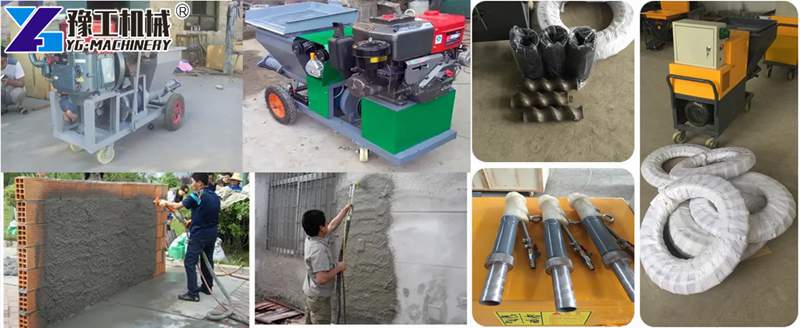 Features of the cement spraying machine
Adjust the flow rate to get the best spraying effect.
In addition to being able to switch on the electric control box, it is also equipped with a remote control switch for spraying.
The connection between the spray gun and the feeding pipe can be rotated for easy operation.
High construction efficiency and good quality.
Small in size, easy to carry on-site, the cost of accessories is low, and the maintenance is simple.
It is easy to use, fast, saves materials, saves labor, and saves money. One machine is only equipped with three people, 150 square meters per hour (thickness 2cm).
Material ratio (cement) 0.7:3 mortar.
What is the price of a Mortar Spraying Machine?
Henan Yugong Machinery Co., Ltd. is an industrial machinery and equipment manufacturing enterprise approved and registered by relevant national departments. Our wall mortar spraying machines have good quality and performance. With its honest and enterprising business philosophy and innovative and practical product technology, it has been widely recognized in the coating industry. The company integrates scientific research, production, and sales, and can customize professional coating equipment according to customer needs.
Are you looking for a cement mortar spraying machine? Please leave your requirements and our sales manager will contact you.