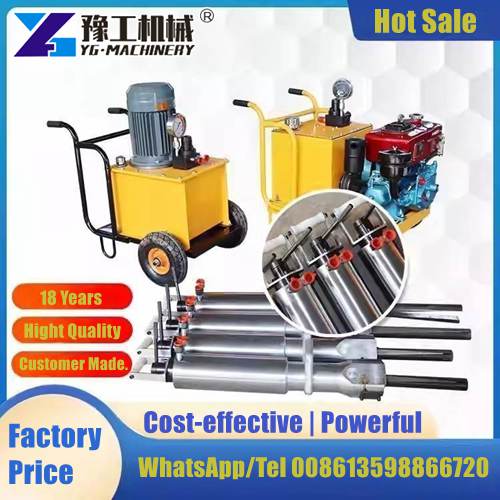 YG Hydraulic Rock Splitter is mostly used in construction, decoration, engineering construction, ore mining operations, secondary disintegration of large ore, and partial and complete demolition of concrete components. What is the hydraulic rock splitter price in Portugal?
Working Case in Portugal
Filipe Freitas from Portugal searched on Google for the hydraulic stone splitter. He found YG Machinery and left his inquiry:
I want to buy a rock splitter. Kindly share a quotation for this machine.

Filipe Freitas
Our sales manager Tiffany contacted Filipe and sent him the detailed quote with machine pictures and videos. Filipe said that the rock splitter looks good. After confirming the delivery time, he decided to order 2 sets with 6 splitting guns.
Are you also looking for a Hydraulic rock splitting equipment with a power pack for natural stone? Leave your messages and our sales manager will contact you as soon as possible.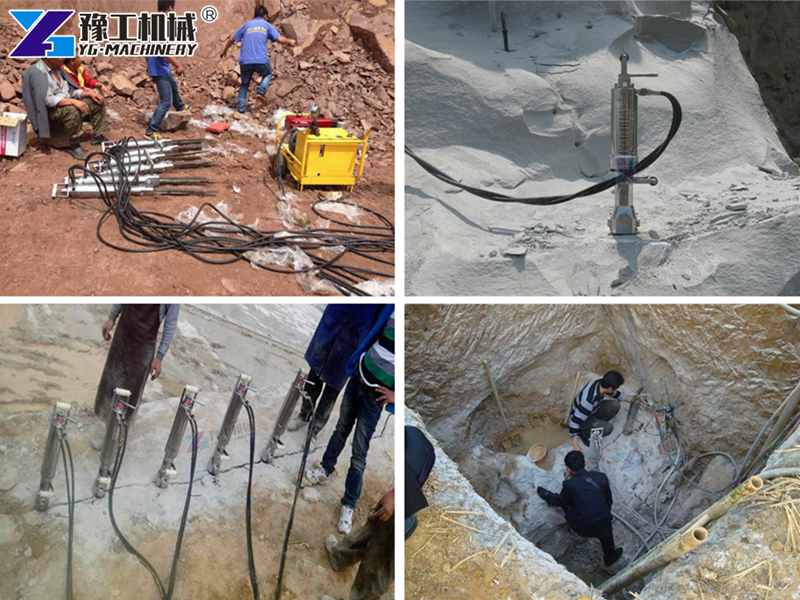 Hydraulic Stone Splitter for Sale – Direct Factory Price
Hydraulic rock splitter, Hydraulic Rock and Concrete Splitters, also known as Hydraulic Rock Splitting Equipment, is a machine used to split rocks. It is mostly used in construction, decoration, engineering construction, ore mining operations, secondary disintegration of large ore, and concrete components. Partial and total demolition work.
The hydraulic rock splitter uses hydraulic machinery to quickly expand and split the rock to facilitate the efficient crushing of the stone.
Parameters
Model
 YG-250
 YG-350
 YG-450
Power
 Diesel Power Pack
Diesel Power Pack
 Changchai 6hp or 8hp
Hydraulic Power Unit
 Pressure Adjustable 10-60Mpa
Splitter Length(mm)
1000
1100
1200
Wedge Length(mm)
250
350
450
Wedge Weight(kg)
30
36
43
Piston Stroke(mm)
90/220
Drilling Depth(mm)
>500
>700
>900
Drilling Diameter(mm)
42
50
55
Crack Width(mm)
10-20
Splitting Time(s)
10-15
Splitting Force(T)
800
900
1000
The minimum diameter of the hydraulic splitting rod is 18 cm and the maximum is more than 25 cm. The drilling distance is 3 to 5 meters in a row, and the depth of the drilling is about 2 meters.
Put 4 to 6 splitting rods in a row each time. Large-scale splitting rods need to be hoisted into the hole by an excavator. The hydraulic power station generates a working pressure of 5,000 to 10,000 tons in one to two minutes and can split about 50 cubic meters of stone at a time.

Features
Safety and environmental protection: static splitting, no hidden dangers of blasting and rock drilling.
No vibration and no impact: no noise, no dust, and no interference with urban construction and precision equipment.
Flexible construction: small size, lightweight, compact structure, and can be operated indoors, underwater, and in narrow places.
Precise splitting: Precisely determine the splitting direction in advance, and the size of the rock needs to be taken out.
Perfect after-sales: one-year warranty, lifetime maintenance, free technical guidance after-sales.
Hydraulic Rock Stone Splitting Machine Price
Yugong Machinery, as a large-scale demolition equipment manufacturer for 18 years, supplies all the equipment from stock. Factory direct sales price. No middlemen. We can configure construction solutions for users according to the construction requirements of customers, creating more value for users. Contact us to get the hydraulic rock splitter price.