The woven bag is one type of plastic bag. Widely application. Mainly used for packaging. Especially for the industry. Generally, its raw material is various chemical plastic raw materials such as polyethylene and polypropylene. The color is usually white or off-white. How are made the PP woven bag? Here, you will find out. Contact us to get the PP Woven Bag Machine for sale price.
Woven Bag Making Machine
PP Woven bag machines can be divided into many types according to the bag types. Whatever the type is, the production process is common. Below is the Woven Bag Making Machine Production process:
PP/PE material or recycled materials > Drying mixer > Wire drawing machine > Winder > Circular loom > Bag cutting machine > Sewing machine > Printing machine > PP woven bag > Baler
PP Cement/Flour Lime Woven Bag Making Machine
The woven bag production line can produce nonwoven bags of various sizes and shapes, such as nonwoven shopping bags, reticules, flat port bags, clothing bags, shoe bags, and other products packaging bags.
| | |
| --- | --- |
| Bag width | 350-600mm |
| Bag length | 450-910mm |
| Bag bottom width | 80-180mm |
| Valve port length | 80-200mm |
| Maximum production speed | 100 pcs/min |
| Maximum unwinding diameter | 1200mm |
| Power supply | 380V/3P/50HZ/A.C. |
| Installed power | 85kW |
| Dimensions (LxWxH) | 13000*8500*2500mm |
The Woven Bag Production Line is composed of:
Six Shuttle Circular Loom
Plastic extrusion coating film laminating machine
Cutting And Sewing Machine
Flexographic printing machine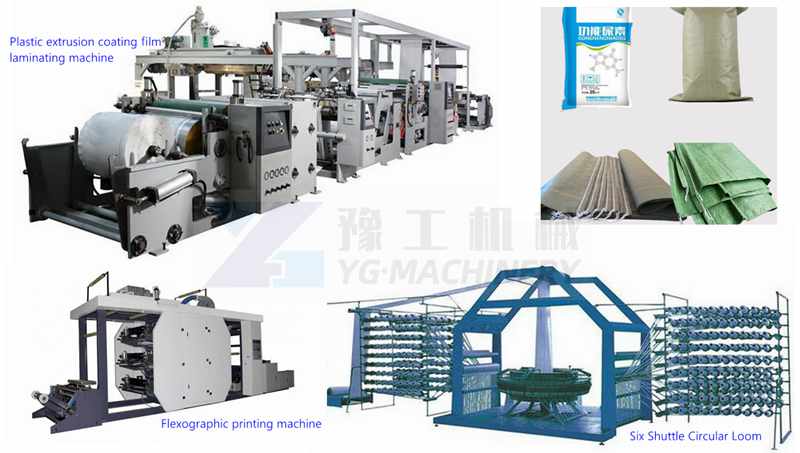 Features
Automatically complete the functions of fixed-length cutting, slitting, and bag collection of blank woven bag rolls;
Adopt touch screen setting, PLC control, servo motor drive precise control system;
After being eagerly cut, the bag is not sticky and easy to open;
Electric winding, pneumatic rectifying device, easy to operate and labor-saving, automatic counting, bags can be stacked and sent to the bag;
The sewing and printing are precise and the operation is smooth.
Actually, the Whole PP Woven Bag Production Line Price: US $ 150000 – 258000 / Set.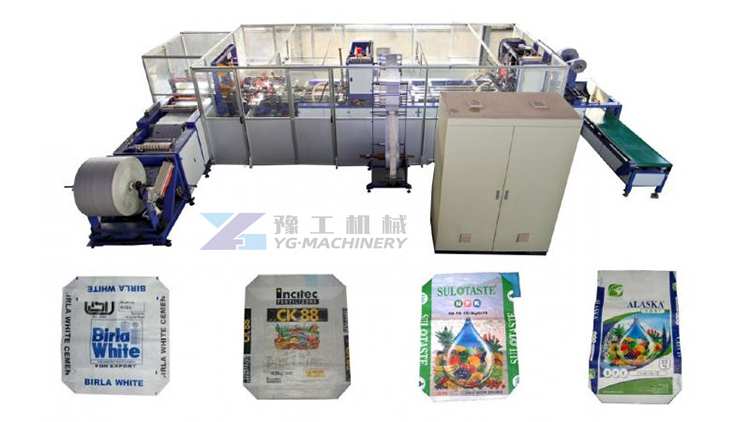 Remark: If you find that this price is out of your budget, you can choose to buy a PP non-woven Cutting And Sewing Machine. The price is about $ 21500. This will save you money. Instead, you need to buy the raw material.
The process is divided into automatic winding – automatic cutting – automatic edge holding – automatic bottom sewing – automatic bag closing.
| | |
| --- | --- |
| Maximum roll diameter | 1200mm |
| Maximum cutting length | 1300mm |
| Maximum cutting width | 800mm |
| Cutting accuracy | ±2mm |
| Folding width | 20-30mm |
| Production capacity | 35-45 pieces/min |
| Total power | 5kw |
| Weight | 1200kg |
| Installation size | 6.5*5.5m |

Leno Bags Making Machine
In fact, a Circular Loom can make pp woven leno bags for vegetables. Such as onion, potato, etc. Mesh bag production line
Material: Polypropylene.
Color: Red, Green, Yellow.
Capacity (kg): Up to 60 kg.
| | |
| --- | --- |
| Model | YG-4/750 |
| Rotational speed | 100-160r.p.m. |
| Working width, double-flat | 300-750mm |
| Driving main motor and control | 2.2kw, inverter control |
| Warp infeed motor and control | 2sets, torque control |
| Over dimensions (L×W×H) | 9000×2400×2730mm |
| Number of shuttles | 4pcs |
| Machine weight | 2000kgs |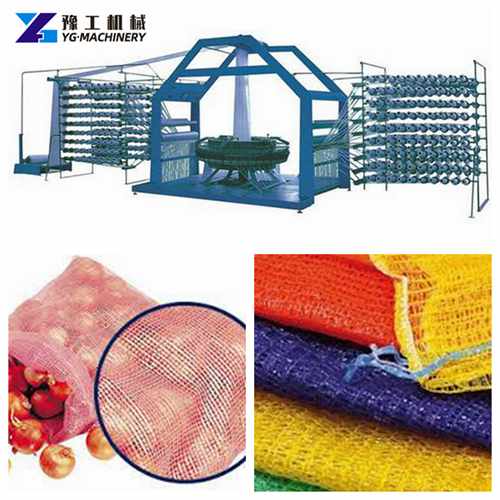 That is all. Besides the woven bag making machine, YG Machinery offers also the Wet wipes manufacturing machine, Meltblown Machine, etc. If you want to get more details about the production line, please feel free to contact us on WhatsApp or leave your messages below.