Disposable latex gloves are common in our life. Some use them for restaurant settings, some use them for medical operations. They are used for industries all over the world. Latex gloves help us keep our environment clean (especially dirt) and protect us from infections and other harmful products.
All about Disposable Latex Gloves Manufacturing machines
So it is a good business for you to produce latex gloves for sale. If you are going to start your glove business, you have to buy latex gloves manufacturing machines to make the gloves, it is an investment once but a profit forever. So, in this article, I present to you a high efficiency latex gloves production line.
What is a latex gloves manufacturing machine?
In fact, to make the gloves, you have to use several machines, it is called the production line to make the gloves. The production line is made up of six parts: disinfection machine, washing machine, heating machine, dryer machine, machine for adding latex, oven, mold release machine, etc. You can contact us to seek professional advice on how to choose machines and how to install a complete production line of disposable latex gloves.
Process to make latex gloves
The standard manufacturing process is summarized as follows:
Form cleaning
Soak in coagulant
Drying the coagulant
Latex gelation
Rinsing (Mixing of products and raw materials)
Vulcanization of products
Rinsing
Powdering
Drying
Mold release
Product testing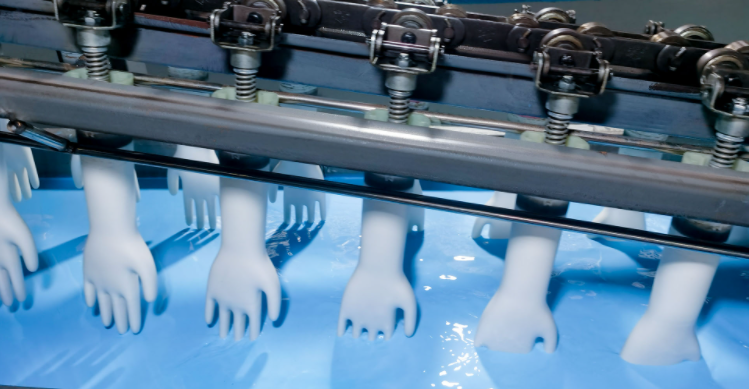 Yugong Machinery is a machinery manufacturing company with more than 16 years of experience. We are expert in the field of machinery. With the advice before purchase and after-sales service, you can trust us totally. Try clicking the button below to start a conversation and request a quote. We are always here to help!
Advantages of latex gloves manufacturing machines
The equipment process is compact, and the mechanical structure is more reasonable. To have the best effect under the minimum power, the equipment dryer adopts a tunnel drying method to achieve cyclic mixing. The equipment uses a special high temperature resistant chain to increase the capacity. The machine can make latex gloves at a low cost by using the principle of hot air circulation. And the Coronavirus pandemic has led to a very strong increase in the need for latex gloves. So…
Disadvantages:
It takes up to a year to build a brand new, operational production unit.
A chain of gloves is extremely expensive.
What is the price of latex glove making machines?
The price of machines depends on the references of the machines you have chosen. The greater the power, the more expensive the machine. You can also contact us for the exact price. For a personalized offer, you must provide us with a certain number of details on the standards required in your country, the current use, the use for which the gloves will be intended, etc.
Budget: the ex-factory price starts at 10,000,000 US dollars.
Conclusion
The latex gloves manufacturing machine can efficiently manufacture the gloves. So if you want to buy the latex gloves production line, please contact Yugong Machinery to ask for related information and price. We are always here to serve you!
Yugong Machinery also offers construction machinery, such as Rebar Straightening And Cutting Machine, rebar cutting machine, concrete pump, Diaper Making Machine, Hydroseeding Machine, Thread Rolling Machine, Reinforced Cage Winding Machine, Scrap Steel Cutting Machine, Concrete Spraying Machine, Glove Making Machine, Water mist cannon, etc.