David from the United Kingdom needs to buy a concrete pump for his construction project. He searched the mot concrete pump on Google. And he found many concrete pump manufacturers. But he chose serval suppliers that he is satisfied with and left his inquiry. YG Machinery is on the list.
Read also: 10 Tips that you should know about the concrete mixer truck
After receiving the quotation from these concrete pump manufacturers. He compared the price and the technical information of the popular concrete pump in the market, like Schwing concrete pump, Putzmeister concrete pump, Dudley concrete pumping, and finally, he chose the YG-40 Concrete pump for sale. YES!!! WE MADE IT!!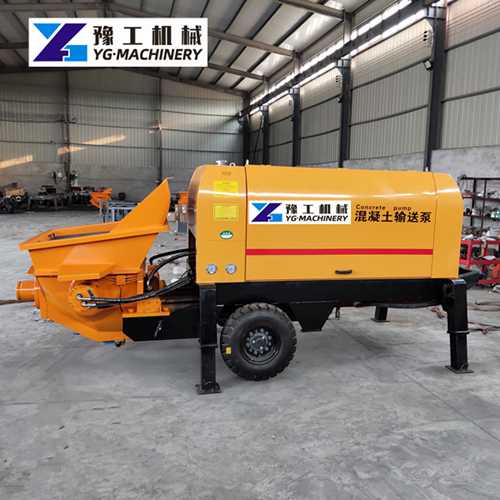 Concrete pump for sale
YG-40 Concrete pump is a trailer-mounted type with a diesel motor. This trailer-type pumping equipment is a popular machine used for pumping concrete to a high building. The concrete can be transported along the pipeline to the pouring site. This small concrete pump is mainly used in housing construction, bridge, and tunnel construction. The machine can be equipped with a crawler to move. Contact us to get the small concrete pump for sale price now.
This small concrete pump for sale is specially designed for the construction of 30-story building floors with a 120-meter lift. The equipment is connected to a 3-meter hard conveying pipe from the ground, and is connected to the floor through the floor; the outlet is equipped with a 15-meter hose. When the floor is poured, the construction personnel move the hose to spread the fine stone concrete material to easily pour the floor. The small concrete pump truck transports directly from the ground and can pump 6 cubes of fine stone per hour, effectively helping the construction to increase the efficiency by more than 3 times.
Parameters of Trailer Concrete pump for sale
| | | | | |
| --- | --- | --- | --- | --- |
| Model | YG-10 | YG-20 | YG-30 | YG-40 |
| Max Theoretical Concrete Output | 6m³/h | 12m³/h | 15-18m³/h | 20-22m³/h |
| Max Concrete outlet Pressure | 10Mpa/15Mpa | 15Mpa/18Mpa | 15Mpa/18Mpa | 23Mpa |
| Aggregate Size | 5-15mm | 5-20mm | ≤20mm | ≤20mm |
| Power | 15kw | 22kw | 37kw | 45kw |
| Hose Diameter | Φ80mm | Φ80mm | Φ80mm(100mm) | Φ100mm(80mm) |
| Max Theoretical Conveying Distance (Horizontal Distance/vertical Height) | 50m/20m | 80m/40m | 160m/80m | 260m/120m |
| Overall Dimension(mm) | 1800×700×1100 | 3400×1200×1600 | 3800×1500×1600 | 4000×1500×1550 |
| Total Weight | 600kg | 1600kg | 2200kg | 2400kg |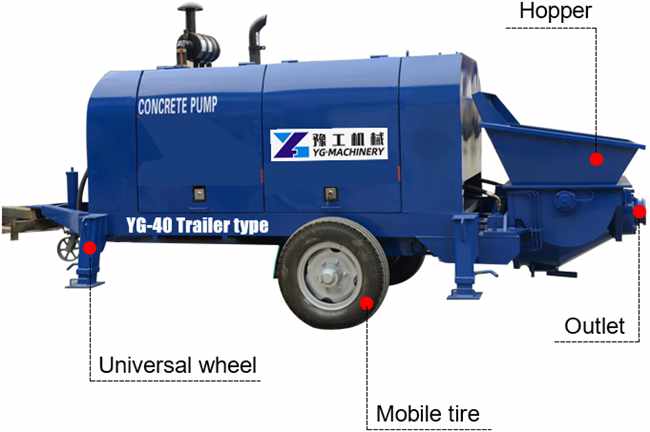 Advantages
The advantages of concrete mixing trailer pumps in rural house construction: more time-saving, labor-saving, labor cost saving, and labor intensity reduction;
It can be built to transport concrete to higher floors, vertically transporting 50 meters;
The mixer and the delivery pump are combined into an integrated machine, Convenient towing and operation;
The concrete mixing trailer pump construction is safer and the conveying efficiency is high.
The maximum concrete transportation volume is 30 cubic meters per hour.
Concrete pump Manufacturer and Supplier
Henan Yugong Machinery is a top and reliable machine manufacturer from China. We are the concrete pump manufacturer factory. So the quality is certified and the price is also competitive. YG Machinery can manufacturer types of pumps. For example, mini concrete pump for sale, truck-mounted concrete pump, concrete boom pump, concrete pump truck, concrete mixer pump, etc. If you have any needs to buy a concrete pump and assessors, please feel free to contact us. We are always here to help! WhatsApp +8613598866720.