MR Marsurdi from Pakistan ordered an automatic liquid filling machine of 3000 bottles per hour.
The water bottle filling machine market in Pakistan is hot because of the increasing demand for bottled beverages, such as water, juice, milk, carbonated drinks, etc. The water bottling machines are used to fill, close, seal, label, and cap bottles of different sizes and shapes. What is the liquid filling machine price in Pakistan? Request a free quote now.

Liquid Filling Machine Pakistan for mineral water/juice
The liquid filling machine can pack various liquid products with good fluidity, such as water, juice, milk, wine, beer, vinegar, oil, lubricant, etc. Contact us to get the water bottle packing machine price.
Parameters of Water bottle filling machine
| | |
| --- | --- |
| Type | XGF8-8-3 |
| Capacity | 3000BPH at 500ml; |
| Filling material | Drinking water |
| Locate mode | Liquid level |
| Weight | 1500KG |
| Size | 1800x1550x2000mm |
| Bottle application | Plastic PET bottle, PE screw cap Diameter: 40-100mm, height:150-310mm |
| Conveyor form | Air conveyor |
| Driving type | Electric motor →triangle belt transmission→ wormreducer |
Note: We have types of liquid filling machines for sale. You can choose the appropriate model according to your needs. What kind of liquid product do you want to pack? Please leave your messages and we will give you the best quote.
Working process of a water filling production line
A water filling production line is a system that produces bottled drinking water from raw water. It consists of several machines that perform different functions, such as water treatment, bottle blowing, filling, capping, labeling, packing, etc.
Water treatment: The raw water is purified by various methods, such as filtration, reverse osmosis, ultraviolet sterilization, etc.
Bottle blowing: The bottle blowing machine can heat and blow the PET preforms.
Filling: The bottles are rinsed, filled with water, and capped by a 3-in-1 filling machine. The filling machine uses a servo motor to control the filling volume and speed.
Labeling: The bottles are labeled by a labeling machine. It can apply different types of labels, such as self-adhesive labels, shrink sleeve labels, etc. You can also use it to print the production date and batch number on the labels.
Packing: The bottles are packed by a packing machine, which can use different materials, such as film, cartons, trays, etc. The Automatic PE film shrink wrapping machine can shrink wrap the bottles for better protection and appearance.
Palletizing: The packed bottles are stacked on pallets by a palletizing machine, which can use a robot arm or a mechanical device to arrange the bottles in a specific pattern. The pallets are then transported to the warehouse or the market.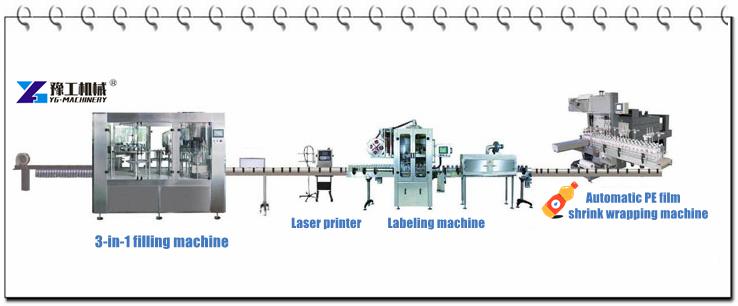 How can I choose the right bottle filling machine for my business?
To choose the right bottle filling machine for your business, you need to consider several factors, such as:
The type and nature of your product, such as liquid, semi-liquid, viscous, foamy, corrosive, etc.
The size and shape of your bottles, such as glass, plastic, metal, round, square, etc.
The capacity and speed of your production, such as how many bottles per hour or per day you need to fill.
The quality and reliability of the filling machine manufacturer, such as their reputation, experience, service, warranty, etc. YG Machinery offers water filling machines at a reasonable price and high quality, and we can provide you with professional guidance and after-sales support.
You do not need to choose the most expensive or the cheapest one, you just need to choose the most suitable one for your business.

Tips
What is the liquid filling machine price?
The price of a water bottle packing machine depends on the capacity and specifications. Higher the capacity, higher the price.
The high cost and maintenance of bottle filling machines affect the affordability and accessibility of small and medium-sized beverage manufacturers. YG Machinery provides the liquid packing machine at a good price with after-sales services. We have professional engineers who can help you do equipment maintenance.
If you need to get the liquid filling machine's price, please leave your messages below.