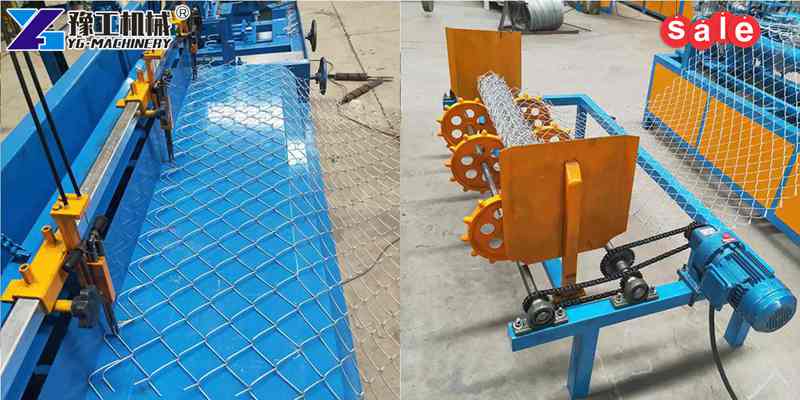 Alex operates a Barbed Wire Manufacturing Company in Russia for many years. He wanted to update his chain link fence machine to increase production. So he found YG Machinery by searching on the Internet. He was interested in our fencing machine for sale and left an inquiry.
Jane made a phone call with Alex and confirmed his requirements. According to his requirements, Jane recommends our hot-selling model. Alex was satisfied with the machine. But, as this is his first time importing machines, he was worried about the order. Jane presented our office and factory via a video call. After that, Alex said you are a very big machine manufacturer. Finally, he took the order with us.
Are you looking for high speed chain link fencing machine? Please get a free quote here. WhatsApp/Phone 008613598866720
YG Chain Link Fence Machine for Sale
Chain link fence is also known as diamond net, hook wire mesh, live network, stainless steel chain link fence, galvanized chain link fence, plastic-coated chain link fence, and plastic-coated (PVC) chain link fence.
Fully automatic (semi-automatic) chain link fence machine make high-quality chain link fences made of wire crochet of various materials. For example, low carbon steel wire, stainless steel wire, aluminum alloy wire, PVC wire, and plastic sprayed wire. It has uniform mesh, smooth mesh surface, beautiful appearance. The web width is adjustable, the wire diameter is adjustable, it is not easy to corrode and has a long service life. Moreover, the weaving is simple and beautiful.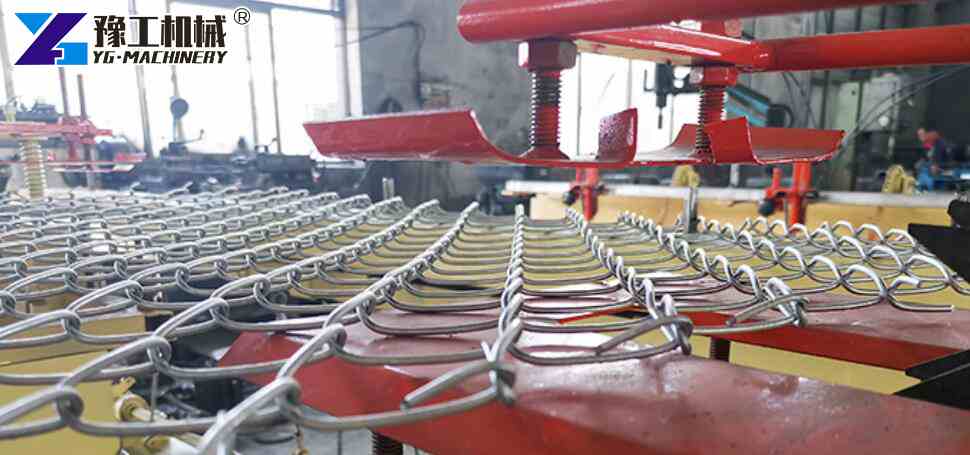 Parameters
| | | |
| --- | --- | --- |
| Model | YG-20-100 | YG-25-80 |
| Wire diameter | 1.3-4mm | 2-4mm |
| Mesh size | 20-100mm | 25-100mm |
| Mesh width | 0.5-4m | 0.5-4m |
| Speed | 70-80mm²/h | 120-180m²/h |
| Mesh length | 30m, adjustable freely according to your request | 30m, adjustable freely according to your request |
| Mesh side | Knuckled and twisted, or knuckle, or twisted | Knuckled and twisted, or knuckle, or twisted |
| Raw material | Galvanized wire, PVC-coated wire, etc. | Galvanized wire, PVC-coated wire, etc. |
| Machine size | 4.2*2.2*1.7m | 6.7*1.43*1.8m |
| Weight | 1800kg | 4200kg |
Split-type automatic monofilament diamond mesh machine (chain link fence machine) includes console, wire defense frame, chain link fence part, weaving part, twisting (folding) part, and rolling net part.
Features
The machine can work continuously for 24 hours.
Single wire input, single die work.
Touch screen control system: you can set the knitting speed on the touch screen.
Automatic weaving, shredding, folding and twisting, rolling net.
Lights and sounds show errors.
The operation is simple, the replacement of the mesh, and the wire diameter is simple. You will save time and manpower costs.
The console adopts domestic advanced technology hardware, with a low failure rate, good coordination, and good compatibility.
Low noise.
One worker can operate the whole machine.
1-year quality guarantee.
Advantages:
The unique weaving process of the chain link fence creates the unique characteristics of the chain link fence. The chain link fence is elastic, tough, durable, and beautiful.
Application use:
Because the chain link fence is elastic, strong, and durable, it is widely used in coal mine safety protection, sports ground fence, boxing field fence, wild animal isolation protection net, breeding fence net, slope rockfall protection, and other important protection.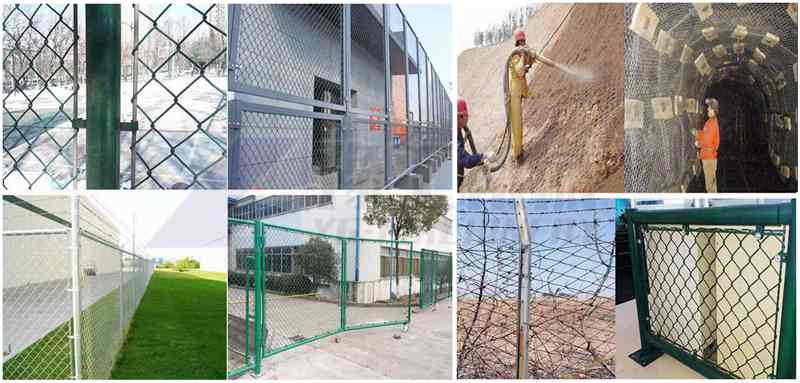 Chain Link Fence Making Machine Price
How much is a wire mesh fence machine for sale in Russia? YG Machinery is a professional and reliable chain link making machine in China. We have more than 18 years in this field. Our customers have highly praised our machines. If you want to get a cheap factory price, please contact us.