Two weeks ago, we received an inquiry about the sanitary pads machine. Our sales manager Amanda contacted the customer as soon as she got the customer's contact. According to the requirements in detail and the budget, Amanda presented the semi automatic sanitary pad making machine for the client. The customer is very satisfied with the machine. And after comparing the price with other suppliers, he made a decision to order the machine from us YG Machinery. Contact us to get a free quote. WhatsApp/WeChat: +8613598866720.
Low Cost Sanitary Napkin Machine For Sale in South Africa
Sanitary pads are a type of menstrual hygiene product that is worn externally. So sanitary napkin manufacturing is a profitable business if you make a good market research and business plan. Here I will present a low cost sanitary napkin making machine. If you want to start the sanitary pads manufacturing business and have a limited budget, you can totally consider this machine. Contact us to get a free quote.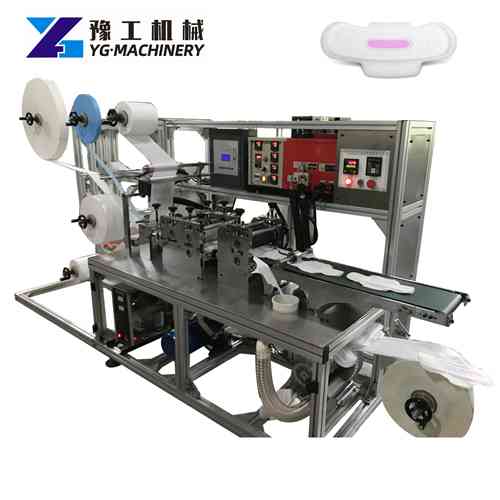 Power Supply: 220V
Power: 7.0KW
Capacity: 80-120pcs/min
Product Dimensions: 250*160mm
Machine dimensions 4.0×1.1×1.6m
Weight: 900kg
Full auto with glue sanitary napkin pad making machine Features
1. Using the ultrasonic and special steel roller, sewn without thread & heating.
2. Use separate steel cutting mold, 10 times longer life than the traditional model. More flat, more beautiful, no wrinkles.
3. Machine with automatic anion chip layer attaching, size 125*30mm.
4. Machine with auto backside glue&release paper attach function, more efficiency, and easy operation.
5. Napkin size(L*W):260*155mm, other sizes according to our customers.
6. Machine with auto counting and will stop once reach setting production.
7. Machine with 6nos, fabric feeding roll, each roll tension can be adjusted separately.
8. Suitable for PP non-woven fabric, hot air/air through non-woven, PE film, SAP paper, SS Hydrophilic non woven, etc.

Sanitary pad making machine price
What is the sanitary napkin manufacturing machine price? If you want to buy a sanitary pad making machine, please feel free to contact us. We will make a quotation in detail at a good price. Leave your requirements in detail by clicking the button below.
What are the raw materials to make woven sanitary napkins?
The product structure of sanitary napkins and sanitary pads mainly has three layers:
The first layer is the surface layer, which is the part that is in direct contact with the skin. The main material is non-woven fabric, perforated film, or pure cotton surface layer, which plays the role of penetration and isolation;
The second layer is the absorption layer, the main material is fluff pulp or dust-free paper, most of the products also contain polymer water-absorbing resin, used to absorb and lock the outflow of menstrual blood;
The third layer is the bottom layer, the main material is a polyethylene film. To prevent the leakage of menstrual blood, the back is coated with hot-melt glue to fix it.
In conclusion
Henan Yugong Machinery is a professional machine manufacturer. Our hot sale machine: Diaper making machine, Wet wipes manufacturing machine, toilet paper making machine for sale, etc. For any questions about our machines or services, please contact us. WhatsApp/WeChat: +8613598866720.