What is an automatic sandblasting machine? How many types of automatic sand blaster machines? We will introduce you here to the automatic sand blasting machine for sale. Hope that it will help you.
Automatic Sand Blasting Machine For Sale
The automatic sandblasting machine is a kind of sandblasting machine. It uses compressed air as the power and metal abrasive as the medium. The Automatic Sandblasting Machine refers to automatic sandblasting, automatic entry and exit of workpieces, automatic swinging of spray guns, automatic abrasive sorting, automatic dust removal, etc.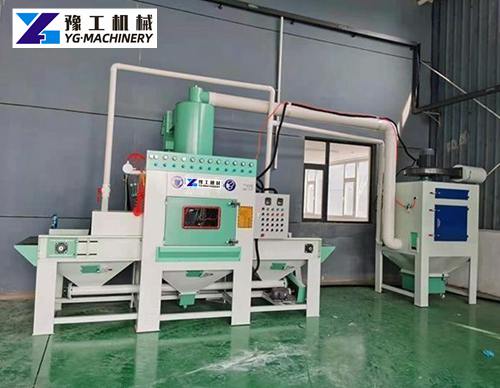 Automatic blast cabinet sandblasting machine with conveyor belt parameters
| | |
| --- | --- |
| item | YG-800 |
| Machine size | 3600*1800*2600mm |
| dust box size | 1300*1300*2500mm |
| work max size | 1200mm width, length is free |
| Speed | 0.5-2m/min |
| machine effect | according to craft and material |
| spray gun quantity | 8-16 pieces |
| Power supply | 380V/50HZ,3 phase five wires |
| dust removal motor | 7.5KW |
| separation air volume | 10m3/min |
| compression air source | 2-7bar(kg/cm3) |
| air source flow | 8-16m3/min |
| Noise | below 85db |
| dust emission | below 0.4mg |
| working environment temperature | -10-40degree |
| Total power | 9.8KW |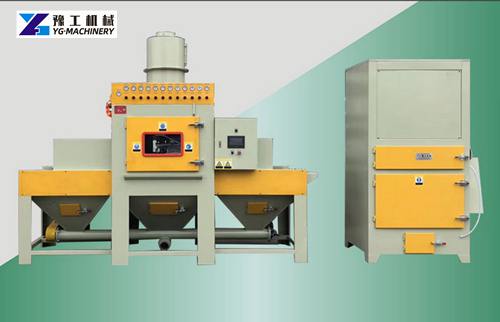 Features of automated sandblasting equipment
Adopt suction sandblasting, that is, the compressed air flows at high speed in the spray gun to form a negative pressure to produce an ejection effect.
The blasting angle can be adjusted 360 degrees according to the shape of the product, and the swing speed can be adjusted by frequency conversion.
The conveying speed is adjustable according to the process requirements, and you can add mesh belts to small workpieces.
With a filter dust removal system, dust-free environment-friendly sandblasting.
The automatic sand blasting machine can be equipped with many spray guns, 4pcs, 6pcs, 8pcs, 10 pcs, 12 pcs, etc.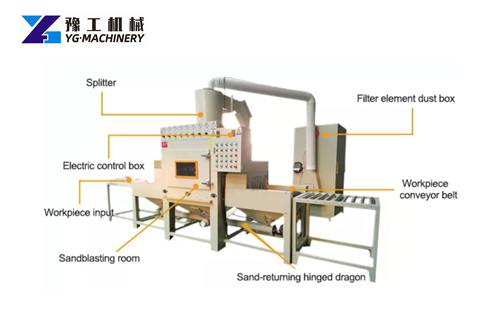 Sandblasting Machine Application
Cleaning, deburring, descaling, rust-removing, wood panel treating, and refurbishing a lot of metal or non-metal workpieces to get a smooth and clean surface for end users, or to be the pretreatment for subsequent processing.
Automatic Sandblasting Machine Price
We are sand blaster machine manufacturer in China. So if you need to buy the sandblasting equipment, please leave your messages here. and our sales manager will contact you as soon as possible.
Types of Automatic Sand blasting Equipment
There are 4 types of automatic sandblasting equipment.
Conveyor automatic sandblasting machine (Flat-type)
It is sandblasting production line. It is a high-output automatic sandblasting machine.
This type of automated sand blaster is generally suitable for the sandblasting of flat plates, discs, squares, profiles, and other heterosexual workpieces. Such as flat stainless steel plates, ordinary steel plates, glass steel plates, stone, non-stick pans, Baking pans, toasters, computer cases, functional DVD panels, notebooks, computer motherboards, decorative parts, brand badges, communication equipment, aluminum sheets, profiles, and other special-shaped parts, etc.
Turntable automatic sandblasting equipment
You may hear its other name, for example, rotary automatic sandblasting machine, intermittent automatic sandblasting machine, and continuous automatic sandblasting machine. It is also a high-capacity, high-efficiency automatic sandblasting machine.
The sandblasting turntable is equipped with 8 small turntables, which are further divided into 4 areas, the sandblasting loading and unloading area, the sandblasting area to be processed, the sandblasting processing area, and the blowing room.
Turntable automatic sandblasting machine is suitable for mass production of inner and outer surfaces of discs, cylinders, and square workpieces. Such as handicrafts, glass lampshades, non-stick pans, flashlights, baking pans, stainless steel wash basins, communication equipment and other workpieces.
Crawler-type automatic sandblasting machine (Drum-type)
It is a high-output, high-efficiency automatic sandblasting machine. But this sandblasting machine has a disadvantage. That is, the product cannot be used for fear of collision. Manually pour all the products that need to be sandblasted into the sandblasting room, close the door, and set the sandblasting time. After the sandblasting is completed, the machine stops automatically, and you can then take out the sandblasted products manually.
The crawler-type automatic sandblasting machine is suitable for small parts, large-scale production, and other workpieces.
Non-standard automatic sandblasting machine
This is a kind of non-standard customized sandblasting machine according to the user's product, performance, output, and other requirements. We can customize the transmission method, sandblasting method, sorting method, dust removal method, recovery method, etc. of the sandblasting machine equipment according to different requirements.
Non-standard automated sandblasting equipment is suitable for all kinds of products.
Note: Due to the special type of automated bead blasting machine, it is difficult for many users to distinguish which kind of equipment is more suitable for them, and which kind of equipment is more cost-effective for them. As a sandblasting machine industry for more than 17 years, I suggest that customers can ask for professional manufacturers to avoid causing unnecessary loss.
Sandblaster Machine Manufacturer | YG Machinery
Henan Yugong Machinery is. We provide many types of sand-blasting machines, such as Manual sandblasting machines, automatic sandblasting machines, conveyor sandblasting machines, belt sandblasting machines, hanging sandblasting machines, mobile sandblasting machines, drum sandblasting machines, automated blasting cabinets, etc. If you want to buy a sandblaster, please contact us to get the machine factory price.