Portable Sandblaster
China sandblaster supplier. Factory stock. Two-year warranty. Lifetime maintenance.
Tank capacity: 0.26-1 m³
Efficiency: 5-30 m²/h
Minimum order quantity: 3 Units
Competitive price. Feel free to contact us.
Choose the model
Sandblasting machines are used to clean and prepare surfaces for painting, coating, or other finishing processes. Choose here the model that you need:
Machine model
YG-400
YG-500
YG-600
YG-700
Diameters
400mm
500mm
600mm
700mm
Height
1150mm
1150mm
1150mm
1250mm
Volume
0.26m³
0.26m³
0.26m³
0.3m³
Pressure
0.4-8Mpa
Air consumption
3m³/min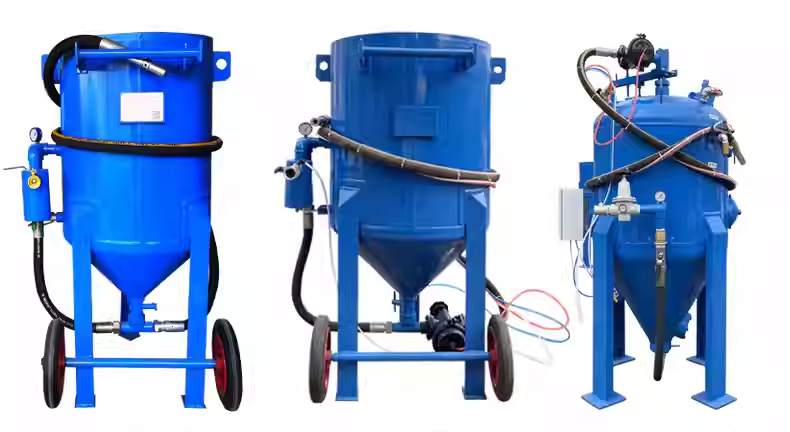 Wide application range, good sandblasting effect
Sandblasting machines are widely used in ships, bridges, mines, machinery, oil pipelines, metallurgical boilers, machine tools, railways, machinery manufacturing, port construction, water conservancy and other areas where the surface is rusty and smooth.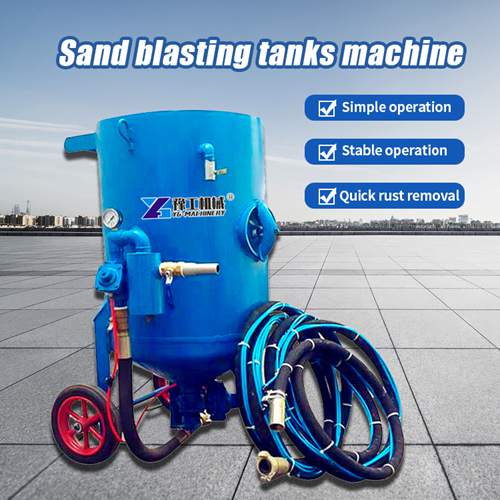 What our customers say?
The sandblasting machine is easy to operate. Just connect it to the air source and you can use it. The sand is produced evenly. Any questions, you can always ask after-sales service.
The quality of the sandblasting machine is very good, the operation is simple, and the pressure is high and the sandblasting is uniform. It greatly improves the efficiency and is much faster than manual sanding.
I have receiverd the sandblasting machine, the quality is very good, the sandblasting effect is very good, the sand is produced evenly, and the operation is simple. Nice!
What will you be concerned about?
1. Technical support
We provice 7/24 technical support. You are able to contact us through a variety of channels, such as phone, email, and live chat. Tel: +8613598866720.
2. Training
We offer training on how to use and maintain sandblasting machines.
3. About Shipping
Support sea transportation, land transportation, air transportation. We can make sure that we will ship the machines to your location in a timely manner.
4. About Customer service
As a professional sandblaster supplier, we provide good customer service. If there are any problems with the machines after you purchase them from us, we have a professional after-sales team to solve your problems.
Our Factory & Company