Do you know how to reduce a pipe end? What equipment can be used? And where to buy an automatic pipe shrinking machine? Do not worry. Here, I will introduce to you a hydraulic automatic pipe shrinking machine for sale.
Pipe shrinking machine for sale in Russia
A pipe end processing machine is a tube reducer for the round tube or square tube.
The pipe shrinking machine is widely used in the processing and forming of pipe fittings, automobile oil pipes, air pipes, water pipes, air conditioning pipes, and other connecting parts. It is an ideal pipe end forming processing equipment. The processing shapes include convex and concave sections, long and flat, square, extension oblique, V-shaped, open elbow, flat elbow, and others.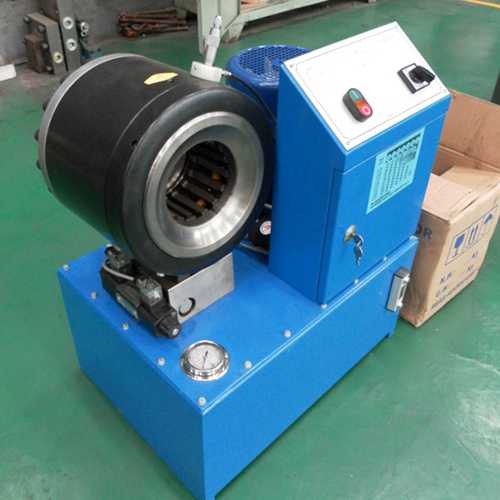 A week ago, our customer from Russia ordered 5 machines from us. So if you need this machine, please leave your messages and our sales manager will offer you the best price.

Pipe end forming machine parameters

Precautions for shrinking machine
Before safe power supply, the grounding wire must be connected to supply power.

The operator should stand in the area where the emergency stop switch can be reached.
The machine must be operated by a special person.
Observe the rotation of the motor after the machine is started. If the steering is wrong and the oil pump has no pressure, the three-phase power wiring should be adjusted.
When the machine is faulty, please turn off the power immediately.
When the machine is in automatic state, please ensure the correctness of the input.
For safety, please turn off the power when installing the mold.
The slides should be filled with oil at least once per shift.
Please check the oil level of the oil level gauge before use, and keep the hydraulic oil above 1/2 and below 4/5 of the oil level.
Place the machine on a firm ground and correct the level, and fix the feet with screws to make the machine more stable.
In conclusion
This pipe end forming machine is very popular in the rebar machinery. Easy to use and powerful. If you are looking for a pipe end processing machine for sale, please contact us to get a free quote. Besides the pipe shrinking machine, we have also rebar straightening and cutting machine, Automatic steel pipe welding machine, Automatic Pocket Spring Machine, etc.