Last week, we have presented the pocket spring machine. After the pocket spring is made, you need also a mattress edging machine which is a very important equipment during the process of mattress production. Here you can learn about this mattress tape edge machine.
Mattress tape edge machine for sale
YG Tape Edge Machine is mainly used for sewing mattresses. It adopts the way that the mattress does not move, and the machine head runs around the seam of the mattress. The work surface adopts high-strength independent support, and the height can be adjusted at will. It is equipped with a chain-type shuttleless machine head (SINGER) imported from the United States. With this mattress, the mattress perimeter work becomes easier and faster.
Mattress Singer Tape Making Machine Parameters
Here are the machine technical parameters:
| | |
| --- | --- |
| Model | YG-DN5B |
| Production efficiency | 15-20 units/hour |
| Dimensions (L×W) | 2800×2900mm (can reach 2200×2400mm) |
| Sewing Speed | 6 minutes/quilt |
| Size | Adjustable |
| Number of flower shapes | up to 300 (can be customized) |
| USB port | √ |
| Sewing thickness | ≤100mm (Within 10mm after compacted) |
| Coil length | 3-7mm |
| Needle type | single needle |
| Total power requirement | 2.3KW |
| Voltage | 380V/50HZ 220V/60HZ |
| Gross weight | 800kg |
The use of imported machine heads and Mitsubishi inverters and other control components achieves the effects of stable operation, low noise, and simple operation. The mattress machinery manufacturer adopts a new method of step-less speed regulation so that the edge speed can be arbitrarily within the operating range. Adjustment, the operation is more user-friendly.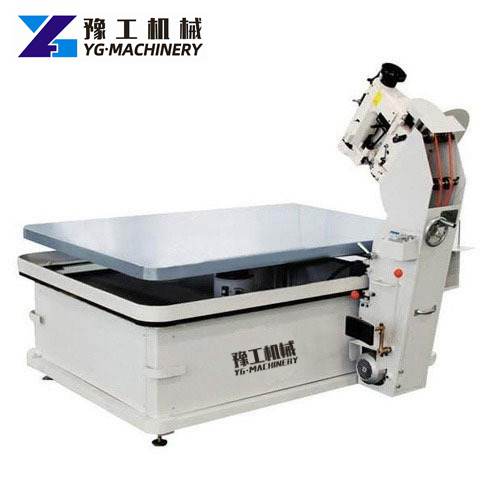 Features of Automatic Mattress Tape Edge Banding Machine:
This machine is a fully automatic machine. We use the singer's head. Also, you can use it for at least 10 years.
Equipped with a singer's headphones and some parts for free.
It has unique functions. Such as automatically increasing or decreasing the nose corner speed, and automatically decelerating when cornering.
This automatic mattress tape edge banding machine has a PLC control system. Therefore, it is more stable and effective. It can make an 18-unit mattress in one hour.
The machine head can be adjusted according to the height of the mattress you make.
Easy to operate. Only one worker is required to use this mattress edger.
Esay to install. We provide you with a detailed installation manual.
Fully automatic can not only improve work efficiency but also reduce labor.
Height adjustment. Sewing machine angle and up and down adjustment can be used on different size mattresses.
Speed ​​adjustment. The speed adjustment on the screen is used for straight sewing and corner sewing speed.
Conveying system. Anti-static PVC belt.
Flip the mattress over. Dynamic mattress positioning system that eliminates operator handling.
Designed for today's heavy premium and thick mattresses. High-speed head sewing speed up to 3000 RPM.
Contact us to get a mattress tape edge sewing machine for sale price.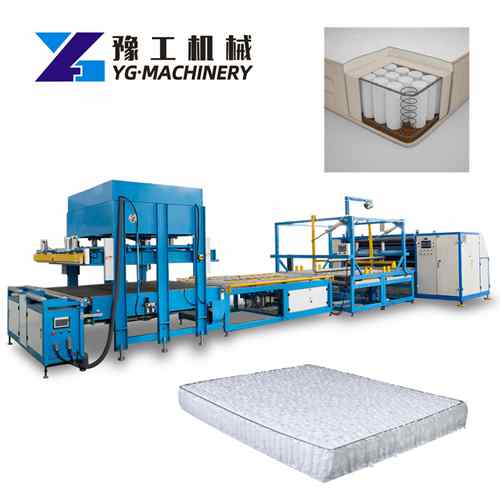 This equipment can sew mattresses of all sizes quickly and easily.  You can choose a single needle or multi-needle. Mechanical cutting, continuous feeding of the whole roll. Automatic cloth guide folding and forming. What is the mattress tape edge machine price? Contact us to get the tape edge machine price.
Tape edge sewing machine Manufacturer
Henan Yugong Machinery co. ltd is a top and professional mattress machine manufacturer and supplier. We provide types of machines for the mattress, such as semi-automatic tape edge machines, automatic mattress tape edge machines, sponge foaming production lines, mattress spring machines, Mattress Compression & Packaging Machines, etc. For any needs, please leave your messages here. We will reply to you as soon as possible.
Besides the mattress production line, we have also a paper cup machine for sale, Non-Woven Gloves Making Machine, Toilet paper machine, Water filling machine, Sanitary Pads Machine, Shoe cover machine, etc.