Nowadays, everyone has concerned about his health, especially sleep quality. The mattress quality affects our health. Everyone wants to use a mattress of high quality. So pocket is a good business to make money. Today, we will present you with a machine for making spring mattresses – YG Automatic Pocket Spring Machine. This machine is designed and manufactured by Henan Yugong Machinery.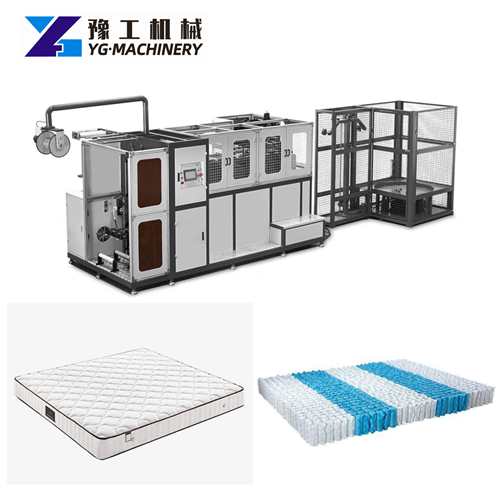 Automatic Pocket Spring Machine for sale
YG Automatic Pocket Spring Coiling Machine is suitable for producing separate pocket spring mattresses. It is a mattress in which individual springs are packaged with non-woven fabrics as a whole. This Spring bed mattress machine has the advantages of high working efficiency, simple operation, and stable performance. It is a necessary equipment for spring mattress manufacturers.
Parameters
| | | |
| --- | --- | --- |
| Model | YGL-90E | YGL-80 |
| Production Capacity(Pieces/8hours) | 43200 | 38400 |
| Spring Wire Diameter(mm) | 1.9-2.4 | 1.9-2.4 |
| Spiral Wire Diameter(mm) | 1.3-1.5 | 1.3-1.5 |
| Spring Outside Diameter(mm) | Φ65-92 | Φ65-92 |
| Center Coil Outside Diameter(mm) | Φ32-55 | Φ32-55 |
| Spring Height(mm) | 80-190 | 80-190 |
| | 4 turns 80-120 | 4 turns 80-120 |
| | 5 turns 120-150 | 5 turns 120-150 |
| | 6 turns 140-190 | 6 turns 140-190 |
| | Standard 5 turns | Standard 5 turns |
| Working Width(mm) | 2000 | 2000 |
| Working Temperature(℃ ) | 0-40 | 0-40 |
| Wire Basket Capacity(kg) | ≥1000 | ≥1000 |
| Area of use (cm) (LxW) | 800*800 | 600*600 |
| Machine Weight (kg) | 5000 | 5000 |
| Power Requirements | Three Phase 380V, Single Phase 220V 50-60HZ | Three Phase 380V, Single Phase 220V 50-60HZ |
| Power Consumption(kW) | 35 | 18 |
A spring mattress consists of three basic parts: bed net (spring) + filling + fabric. The spring is the main body to realize the support function; the filler assists the spring to make the mattress fit the human body better, disperse the pressure and improve the body feeling. The fabric wraps the mattress, and the high-quality fabric also has the functions of anti-mite and breathability. YG Spring assembly machine is used for producing this type of spring mattress.
Features of the Spring Machine
The size of the spring bed net, the diameter of the steel wire, the diameter of the spring, and the height can be changed within a certain range.
The number of spring rows can be set by computer, and the whole spring bed net can be pushed out automatically after completion.
Realize the simultaneous completion of upper and lower strings, and can realize automatic cutting of string springs and bending at both ends.
You can install the machine in a small area. And just one person can operate the machine, which saves the costs.
The bed net moves forward automatically, and it can automatically stop when the string spring is blocked from moving forward.
It can be operated without an air compressor, and the automatic lubrication system prolongs the service life of the machine, with minimal maintenance and replacement of parts.
Different specifications of fixture accessories can be provided according to customer processing requirements.
Spring assembly machine Application
Adapt to cylindrical and barrel shape springs
The heat-treatment device can adapt to different spring heights, easy to adjustment
The non-woven feeder system saves material and labor
Multiple fault detecting devices effectively reduced the wastage
Use a semi-automatic coiling head, faster than a normal coiling head
Special protective device.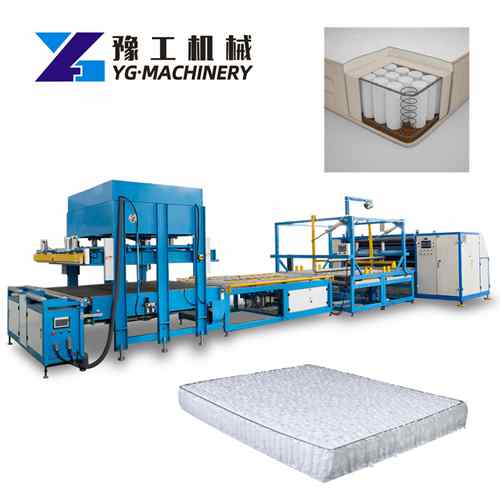 The whole automatic high-speed mattress production line is composed of four machines: spring manufacturing machine, linear sewing machine, mattress tape edge machine, and mattress packaging machine. Our factory has more than 17 years of experience in mattress manufacturing. We have a strong and professional after-sales service team that can provide customers with equipment installation, commissioning, technical training, repair and maintenance, parts supply, and other services. Once you need it, we all go.
Mattress spring machine manufacturer
Henan Yugong Machinery is a mattress spring machine manufacturer from China. We can supply also the equipment for an automatic mattress production line, such as high-speed linear sewing machine, semi-auto mattress compressing machine, economy type popular mattress tape edge machine, mattress packaging machine, etc.
Besides the mattress machine, here are our hot sale machines: Shoe cover machine, Paper Bag Making Machine, Automatic Beauty Facial Mask Making Machine, Balloon making machine, etc. If you have any needs for the machine, please leave your messages here.