Disposable gloves are made of a thin layer of latex. Immerse the ceramic mold in latex to produce the perfect shape. Nitrile rubber is a substitute for people who are allergic to latex. And the nitrile gloves machine is used for producing nitrile gloves. Read on to learn more about the nitrile gloves making machine for sale.
Read also: How to make nitrile gloves?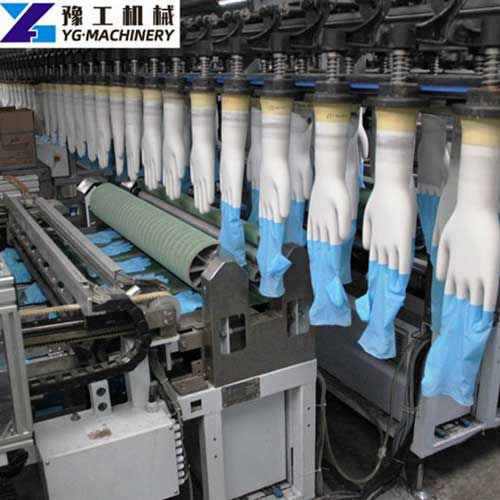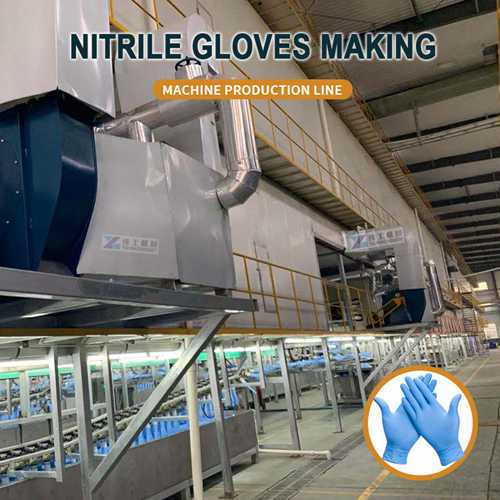 Gloves Dipping machine | Nitrile gloves production line
Nitrile is a highly sensitive material with a thickness of only 0.1 mm. We use often Nitrile rubber gloves where hygiene is of paramount importance, so in terms of manufacturing, the focus is on ensuring clean, error-free production.

Suitable materials: PVC emulsion/Latex/Vinyl
Main products: PVC/Latex/Vinyl gloves for examination, surgery, disposable glove for household, and beading, straight (powder/powder-free).

Features of the Automatic Nitrile Glove Making Machine
The natural latex/nitrile gloves production line adopts continuous production and direct dipping methods. It can be used for producing medical surgical gloves, examination gloves, powder or powder-free coated gloves.
The product qualification rate is over 98%;
With the introduction of foreign advanced transmission main chain structure, the chain running resistance is small, and the production runs smoothly at high speed;
Vertical hot air circulation is used in the drying oven, which saves energy consumption by nearly 20% compared with other forms of hot air circulation.
Models with different lengths, heights, and costs can be designed according to customer needs.
Technical Parameters of nitrile glove manufacturing equipment
Model
Machine Size

(m)

Speed (m/min)
Capacity (pcs/hr)
Heat Consumption (kcaVhr)
Power (kW/hr)
Mold (pcs)
Chain

(m)

YG-SBA50 x 6
50m x 1.8m x6.5m x 6Layers
8.3
5,000
450,000
85
3,000
300
YG-SBA60 x 6
60m x 1.8m x6.5m x 6Layers
10
6,000
550,000
90
3,600
360
YG-SBA80 x 6
80m x 1.8m x6.5m x 6Layers
13.3
8,000
750,000
98
4,800
480
YG-SBA100x6
100m x 1.8m x 6.5m x 6Layers
15
10000
1,100,000
115
6,000
600
YG-SBA110x6
110m x 1.8m x6.5m x 6Layers
21.6
13,000
1,200,000
120
6,600
660
YG-SBB80 x 6
80m x 1.8m x 7.5m x 6Layersx2
13.3
16,000
1,400,000
110
9,600
480
YG-SBB100x6
100m x 1.8m x 7.5m x 6Layersx2
18
21,600
2,100,000
130
12,000
600
YG-SBB110x6
110m x 1.8m x 7.5m x 6Layersx2
20
23,000
2,200,000
135
13,200
660
YG-SBA60 x8
60m x 1.8m x 8.5m x 8Layers
10
7,200
730,000
95
4,800
480
YG-SBA80 x 8
80m x 1.8m x 8.5m x 8Layers
16.7
10,000
1,000,000
100
6,400
640
YG-SBA100x8
100m x 1.8m x 8.5m x8Layers
22
12,000
1,470,000
120
8,000
800
YG-SBA110x8
110m x 1.8m x 8.5m x 8Layers
24
14,400
1,600,000
125
8,800
880
YG-SBB80 x8
80m x 1.8m x 9.6m x 8Layersx2
16.6
20,000
1,900,000
120
12,800
640
YG-SBB100x8
100m x 1.8m x 9.6 m x8Layersx2
20
24,000
2,800,000
130
16,000
800
YG-SBB 110×8
110m x 1.8m x 9.6m x 8Layersx2
21.6
26,000
3,050,000
140
17,600
880
YG-SBB80xl0
80m x 1.8m x 12m xlOLayersx2
22
26,400
2,380,000
130
16,000
800
YG-SBBlOOxlO
100m x 1.8m x 12m xlOLayersx2
23.3
28,000
3,500,000
140
20,000
1000
YG-SBB110x10
110m x 1.8m x 12m xlOLayersx2
25
30,000
3,800,000
150
22,000
1100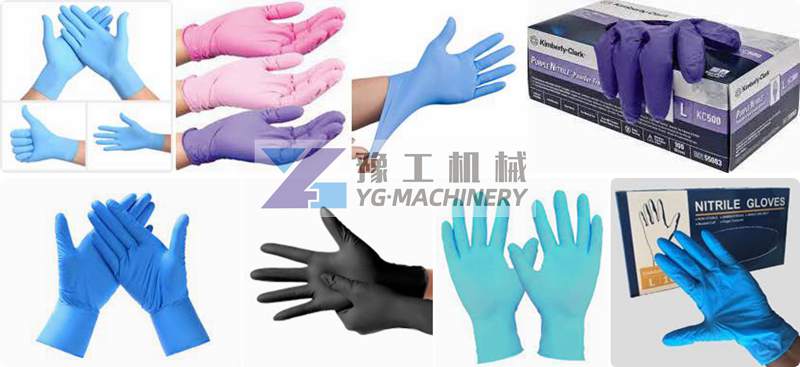 Remark:
Capacity is different according to the production of different products, such as surgical or exam gloves, powder, or powder-free gloves. Because the machine craft work needs to design accordingly.
Automatic Gloves Packaging Machine
Surgical Glove Out Wrap Packaging Machine is used for automatic boxing of PVC gloves, nitrile gloves, latex gloves, and other disposable gloves. The machine can be also used for various packaging materials such as plastic film, plastic, and paper compound film, plastic, and aluminum compound film.
Features of the automatic glove packaging machine
Here are the features of the automatic glove packaging machine:
The standard is 100 pieces per box, and the quantity can be set according to requirements;
It can be used in conjunction with the production line to save manpower and improve work efficiency;
As long as the gloves coming out of the clean area enter the boxing process, the carton can be packaged directly on the packaging machine without being folded into a rectangular or square state. The packaging machine will automatically fold into a rectangular or square according to the specifications of the packaging process. Sealing, folding corners, side sealing, shaping, or spraying glue to complete one-time packaging finished products;
The packaging speed, the packaging size, and the heat sealing temperature are adjustable;
Use servo motor step-less speed regulation, man-machine interface, PLC control, fault diagnosis prompt;
It adopts full cylinder drive, stable operation, accurate synchronization, convenient adjustment, and firm sealing;
The body shell is made of high-quality stainless steel, which meets GMP requirements.
Technical parameters
Voltage(V/HZ )
380/50(3PH )
Heat Seal Powe(W)
5000
Driving Power(W)
35000
Packing Speed(pcs/min )
100
Temperature Range(C )
0-300
Number of Printing
10
Air Pressure

(Mpa)

0.6
Max Sizes of Packing Object(mm )
520×280
Dimension(L*M*W ) ( mm )
6619x1863x985
Net Weight(Kg )
750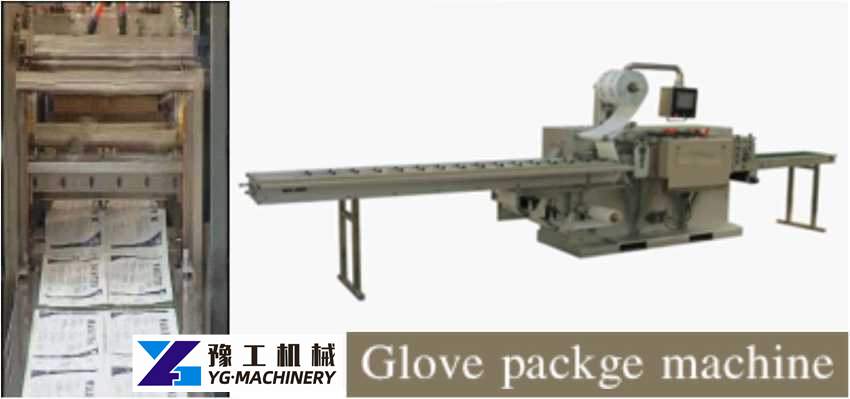 Nitrile gloves manufacturing plant cost
If you want to buy machines for producing PVC and PVA gloves, latex and nitrile immersion, or surgical gloves and work gloves, belt packing machine, helmet injection machine, and high-heeled PVC shoes, please contact us to get professional assistance. We will guide you to buy the best and most suitable gloves making machine. For more information like the production capacity, price, technical specifications, and dimensions of the devices separately, please leave your messages here.
YG Machinery is a machine manufacturing company that can provide production lines, like diaper making machines, wet tissue paper making machines, latex gloves making machines, Toilet paper production line, etc.