Do you know what is a wire mesh welding machine? How much is the machine? How to operate it? If you want to know more about steel wire mesh welding machines, then this article will help you.
What is an Automatic Tunnel Steel mesh welding machine?
The Automatic Tunnel Steel Mesh Welder Machine is a construction steel mesh welding machine suitable for the construction field. It has a PLC Control and Electric Motor Power System. It is a new generation machine according to the needs of the market. This equipment is suitable for high-speed production of construction steel mesh. With a high degree of automation, the wire mesh welding machine can straighten, feed, weld, cut, and unload the steel bar in a few minutes. Just one worker can operate it. The welding principle is resistance welding. This kind of welding has the characteristics of small welding scar, firm welding, and no deformation. If you want to buy the Reinforcement mesh welding machine, please contact us to get the factory price.

Advantages of Tunnel Wire Mesh Welding Machine
Welding machines are designed for the efficient production of Industrial Mesh and Fences.
The equipment has fast welding speed, accurate grid specifications, and reliable solder joints.
The equipment adopts a PLC programming controller, touchscreen display, and convenient operation interface.
High efficiency, No noise, and no harmful gas.
There is no need for filler metals such as welding wire and electrodes, and welding materials such as oxygen, acetylene, and hydrogen, and the welding cost is low.
Easy to operate and maintain, saving labor costs.
Compared with manual binding and manual welding, it is more energy-saving, efficient, and environmentally friendly.
It can be grouped with other machines to make a production line.
How to use and maintain the welding machine?
Before you start to use the welding machine, first, you need to check if the machine is in good condition. You should check the various structures of the equipment every time to ensure that the equipment structure is intact and ensure the status and functions of all structural parts. In this way, when the equipment is started to work, the use effect presented will be normal, and the welding process can be carried out smoothly.
Second, regular inspection is also necessary. Specifically, when you do not use the machine for a long time, you should check the welding machine before you use it. If you find defects, please deal with them in a timely manner.
Third, you should maintain the machine every six months.
Then, electrode contacts should be kept lubricated and clean. If needed, you should use a fine file or sandpaper to repair it.
Last, Welder wears canvas gloves and a quilt cover to protect from scalding by metal splatter.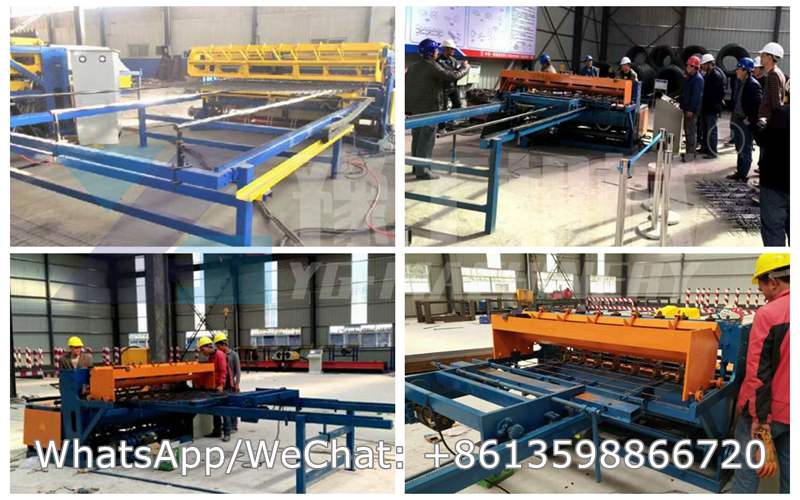 In conclusion, there are many advantages to using the steel mesh welding machine to weld the steel mesh. With the demand for the steel mesh welding machine, YG Machinery offers now the mechanically launched high-efficiency and energy-saving steel mesh welding machine. With the application of numerical control technology to the welding process, the machine can improve the welding efficiency. Please contact us here or leave your requirements to get the automatic wire mesh welding machine price.