With the rapid development of the industry, the demand for sandblasting machines is increasing day by day. There are many types of sandblasting equipment in the market, such as a sandblasting room, wet blasting equipment, High pressure sandblasting machine, etc. Here, I will introduce to you the most common type in the construction site, sandblasting machine.
What is an airblast machine?
Sand blasting machine, also named Airblast machine, Sandblaster, is one type of air compressor. It uses compressed air to transport powder particles (1~4mm in diameter) materials from one place to another in the pipeline. In the process of converting kinetic energy into potential energy, the high-speed moving sand particles scour the surface of the object and improve the surface of the object.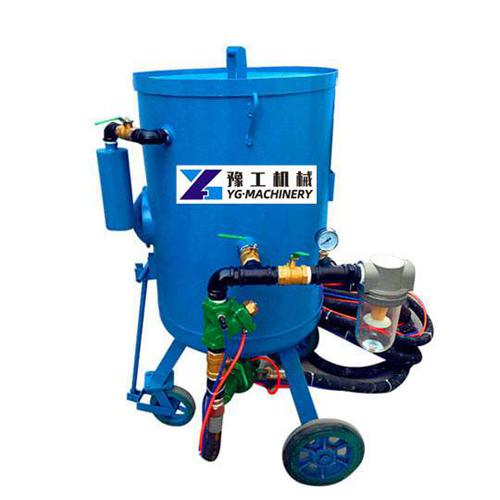 YG Sandblasting Machine for sale
Take a look first at the parameters of the small automatic sandblaster for sale.
Model
YG-600
YG-700
YG-800
YG-1000
Volume
0.26 m3
0.3 m3
0.6 m3
1 m3
Height
1150
1250
1700
2000
Sand peening capacity
5-10 m3/h
6-11 m3/h
10-12 m3/h
10-30 m3/h
Air source configuration
3 m3/min
3.5 m3/min
4 m3/min
Control system
Air control
Diameter
600mm
700mm
800mm
1000mm
Features of Automatic Sandblasting Machine for Sale
Sandblasting machine is a kind of machine that can make various abrasives (silica sand, copper slag, iron sand, etc.) sprayed onto the metal surface with the help of air pressure. The abrasive sprayed on the metal surface is ground on the metal surface to remove the surface impurities and oxide layer, so that the surface area is increased, which can improve the surface adhesion of the coating and improve the coating quality of the coating.
Injection technology can be divided into three types according to the injection method: press-in type, suction type, and centrifugal type.
In addition, the automatic electric sandblasting machines are mainly divided into two categories: dry sandblasting machines and wet sandblasting machines. You can choose according to your requirements. If you need help, please leave your messages below.
Machine Applications
Sandblasting technology is widely used in many fields, for example, ships, bridges, water conservancy engineering, mining machinery manufacturing, petroleum, chemical metallurgy, port construction, aircraft manufacturing, rolling stock, instrumentation, precision manufacturing, electronic industry, etc;
It is the most ideal method for cleaning large areas before metal surface coating.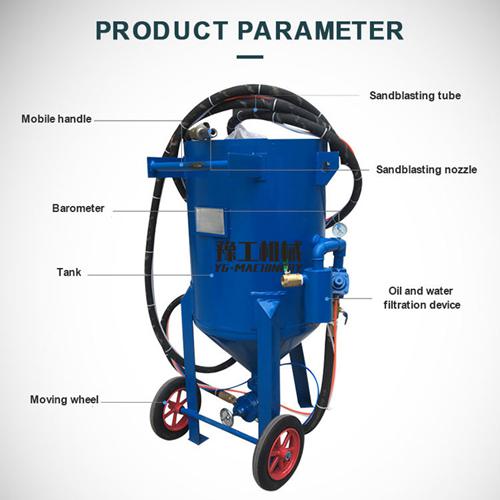 Top Manufacturer of Sandblasting Machine
Henan Yugong Machinery is a top and professional manufacturer of sandblasting equipment, including sandblasting room. Sandblasting room is a much larger version of a sandblast cabinet. The efficiency can be increased by 30%, and the loss of abrasive and energy consumption can be reduced by 20%. YG Sandblasting equipment is safe, reliable, simple in structure, easy to operate and maintain. Besides, we provide concrete machines, such as concrete mixer, concrete pump; rebar machines, for instance, rebar cutting machine, rebar pipe bending machine; and other types of construction equipment. If you want to get more details about the machine, do not hesitate to leave your messages or contact us on Whatsapp at +8613598866720.