Candy is the favorite food of most people, it can make people happy, especially for children. Do you like candy? Do you know how to pack a candy? Candy is produced by a candy packaging machine. And because of the wide variety of candies, the equipment also requires versatility. In this article, I will introduce to you the high-speed candy wrapping machines.
Candy Packaging Machine for sale
Candy manufacturers generally need to use high-speed and automated packaging machinery to pursue cost-economic optimization of product packaging. This pillow-type gummy packaging machine is suitable for the packaging of various regular objects such as biscuits, rice cakes, snow cakes, egg yolk pie, chocolate, bread, instant noodles, moon cakes, medicines, and daily necessities, industrial parts, cartons or trays.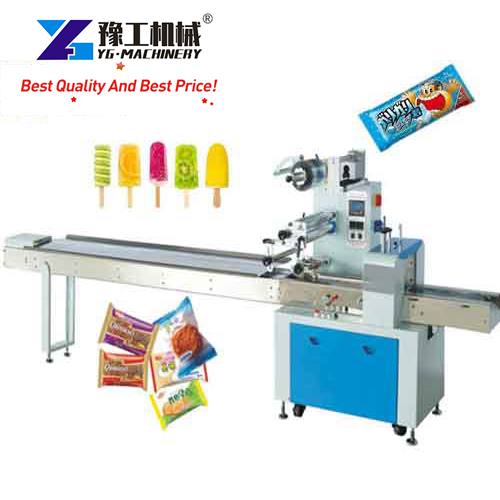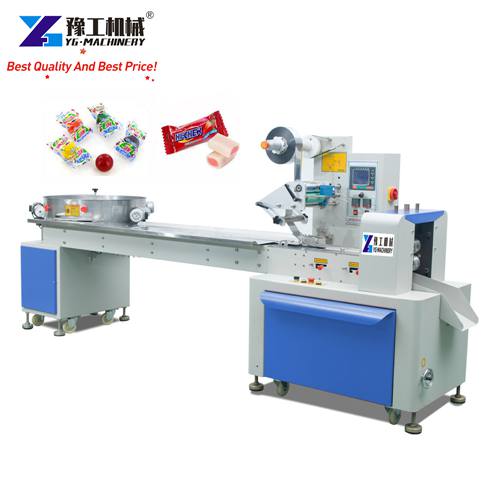 Candy packing machine parameters
YGC-250
YGC-350
YGC-450
YGC-600
Film width
Max 250mm
Max 350mm
Max 450mm
Max600mm
Bag length
70-400mm
Bag width
30-110mm
50-160mm
Product height
Max40-60mm
Max 40-60mm
Max 75mm
Max 100mm
Fim roll diameter
Max 320mm
Packing speed
40-230bag/min
40-230bag/min
Power
2.6kw, 220V 50/60Hz
2.8kW, 220V 50/60Hz
3.2kW, 220V 50/60Hz
3.4kW, 220V 50/60Hz
Optional device

Coding machine, Gas-filling device, Cake falling device, Sorting machine

Packaging material
For example single-layer heat sealing BOPP or composite film such as OPP composite PE, PET composite PEF
Bag type
Back-sealed package (hanging hole round hole/butterfly hole can be customized )
Horizontal sealing /Blade grain
Cutter edge serrated/flat edge plus V easy tear
Packaging Machinery Features
YG Packaging Machinery manufacturers have developed equipment suitable for different types of candies, which have the characteristics of high speed and automation. To achieve the functions of packaging machinery, the equipment adopts technologies such as servo motors, photoelectric tracking, high-speed cameras, etc. High-speed chocolate packaging machine is more developed from the matching of equipment and cold air packaging film to achieve high speed without affecting the quality of chocolate products.
The functions of automation, sorting, emergency stop, and acceleration of candy packaging machinery and equipment are also very important. In addition, for non-standardized or seasonal confectionery products, packaging machinery should be designed to be flexible, lightweight, and compact.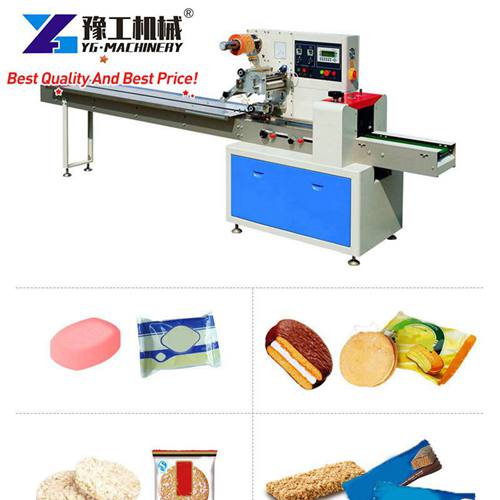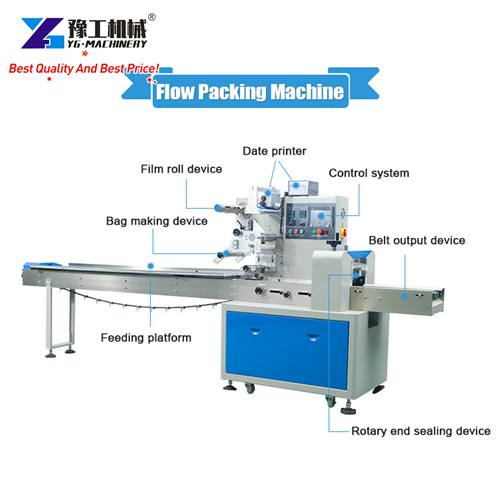 Flexibility, innovation, and personalization are the main functions of candy packaging machinery and equipment. Now the ingenious packaging design can meet the competition of commodities. Contact us to get the candy wrapping machine price.
Advantages
With double frequency converter control, the bag length can be set and cut immediately, no need to adjust the idling, it can be done in one step, saving time and film.
Human-machine interface, the parameter setting is convenient and quick.
Fault self-diagnosis function, fault display is clear at a glance.
High-sensitivity photoelectric eye color mark tracking, digital input sealing, and cutting position, so that the sealing and cutting position is more accurate.
Temperature-independent PID control is better suitable for various packaging materials.
Positioning stop function, no sticking to the knife, no waste of film.
The transmission system is simple, the work is more reliable, and the maintenance is more convenient.
All controls are realized by software, which is convenient for function adjustment and technical upgrades, and never falls behind.
What is the candy wrapping machine price?
A candy packing machine is a machine that can quickly pack candies in batches. If you are looking for a candy bagger machine, please contact us to get a free quote. Besides the candy packaging machine, we provide also other packaging machines for food, a4 paper, gloves, etc. Whether you have questions about the services or machines, feel free to contact us. We are here to help! WhatsApp/WeChat +8613598866720.
Our hot sale machine: Paper Bag Making Machine, Non Woven Gloves Making Machine