5 fog cannons are sold to Saudi Arabia. Contact us to get a free quote for Dust Suppression Cannon.
YG Agricultural Sprayer Dust Suppression Cannon | Water Fog Cannon Machine
YG Fog Cannon is widely used in the ventilation and cleaning of dusty environments such as coal yards, mines, power plants, steel mills, construction sites, wharves, factories, workshops, gardens, sanitation, etc.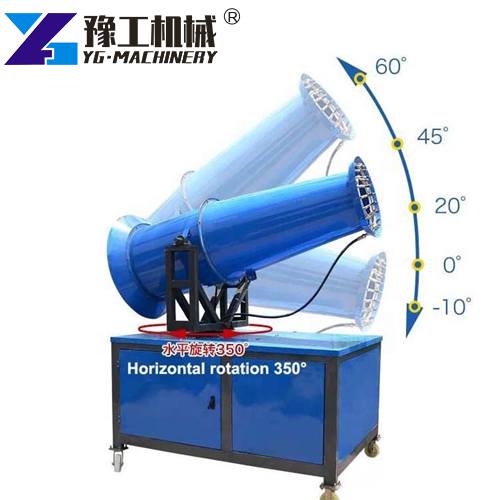 Technical Parameters
| | | | | | |
| --- | --- | --- | --- | --- | --- |
| Model | YG-30 | YG-40 | YG-50 | YG-60 | YG-100 |
| Horizontal Range | 30m | 40m | 50m | 60m | 100m |
| Fog Size | 40-200μm | 40-200μm | 40-200μm | 40-200μm | 30-200μm |
| Fan Diameter | 500mm | 500mm | 700mm | 700mm | 1200mm |
| Fan Length | 1.25m | 1.5m | 2.1m | 2.1m | 2.55m |
| Voltage | 380V | 380V | 380V | 380V | 380V |
| Fan Power | 3kw | 5.5kw | 15kw | 18.5kw | 55kw |
| Water Pump Power | 3kw | 3kw | 5.5kw | 5.5kw | 11kw |
| Dimension | 1.350*1*1.6m | 1.65*1*1.75m | 1.8*1.2*2.1m | 1.8*1.2*2.2m | 2.7*2*2.3m |
Features
It comes with a generator set of 8KW.
Strong wind, long-range, wide coverage, high work efficiency, movable, easy, and convenient operation.
Automatic control, safe and reliable to use, can adjust the spray pitch angle and horizontal rotation angle at will.
Compatible with manual control, it is safe, flexible, and convenient to use.
Large water tank capacity, which can hold 500L water.
Wide application range, high working efficiency, fast spray speed, strong penetrating power to dust, and adhesion of mist beads, which can effectively save water and reduce environmental pollution.
The range is long and the coverage area is large. The range can reach 150M. Through high pressure, the water is atomized into water droplets of the same size as the dust, and the water mist is accurately projected to the target under the action of the fan, which has a good ability to control the dust.
How to use the fog cannon?
When the fog cannon machine is in use, it uses a high-pressure nozzle. After it is started, it will spray out a water mist that is equivalent to the size of the dust. In this way, the sprayed water mist and dust will combine and condense into agglomerates. The scientific principle is that the action of gravity achieves the effect of subsidence. Under the situation that such a use effect occurs, the use purpose of purifying air has just been realized.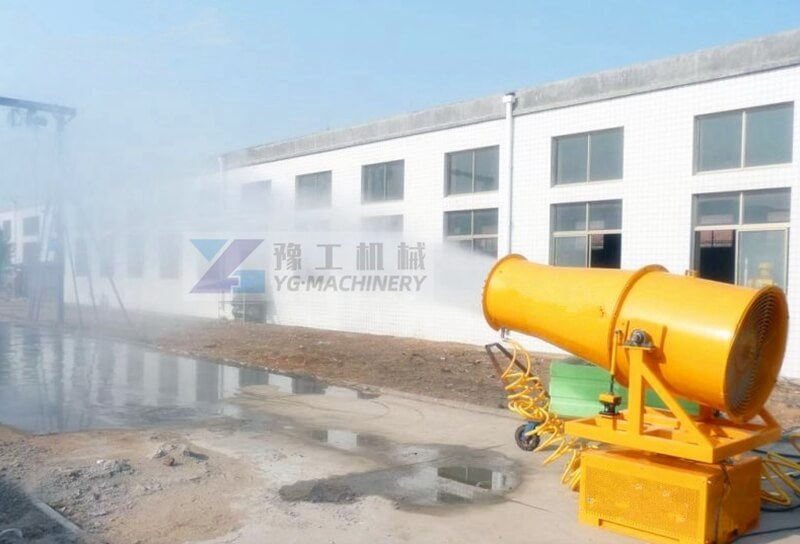 Dust Suppression Cannon Manufacturer
YG Machinery is a professional mist cannon machine manufacturer from China. Our hot sale machine includes dust suppression fog cannon, mobile fog cannon, fixed fog sprayer, vehicle-mounted fog cannon, explosion-proof fog cannon, dust suppression fog sprayer, high-pressure spray dust removal equipment, etc.
We can provide customers with one-stop online remote centralized monitoring with a range of 20-120 meters for dust removal Haze service. Buy fog cannons, find established manufacturers, and flexible and diverse configurations, tailor-made for you!